Bayonetta Developer Is Working On A Brand New IP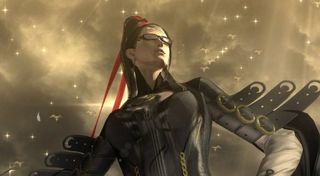 (Image credit: Platinum Games/Sega)
If you've been enjoying the output that Platinum Games has been producing lately with their titles, you're in for a treat because the lead producer at the Japanese development studio behind Bayonetta announced that they're working on a brand new game and it also happens to be a brand new intellectual property. This means it's not something based on any previously licensed brand.
DualShockers is reporting that the news came courtesy of the keynote speech during the BitSummit in Kyoto, Japan. Platinum Games' producer Atshushi Inaba took to the stage to announce that they were working on a new "formless, shapeless IP". Those in the comment section of the article were quick to point out that that the comment about "formless" and "shapeless" comes from an old Bruce Lee quote about being formless and shapeless like water.
This, of course, speaks nothing of what the actual game might be like that Platinum is working on, but the Bayonetta developer could be thinking outside the box in terms of what the new IP is going to be, using a design philosophy of being shapeless or formless, which could be really cool. And we already know that Platinum is not above taking risks and working on completely new kind of games that break molds and trends. For instance, their most recent collaboration with Square Enix and Yoko Taro, Nier: Automata, managed to sell a million copies within a month of releasing on PC and PS4 thanks to telling a compelling story while mixing in action-RPG mechanics with arcade shooting, and odd but compelling hacking mini-games.
Platinum's 2009 outing, Bayonetta, also recently re-released for PC gamers on Steam thanks to Sega. The game, while also classified as a hack-and-slash shooter, was like a mix of Dragon Ball Z-style combat fused with Matrix-esque shooting mechanics.
Before Xbox head honcho Phil Spencer pulled the plug on the project, Scalebound for the Xbox One and Xbox Scorpio was a mix of giant monster melee combat and fast-paced third-person combat.
While it's likely that their new IP will have some element of hacking and slashing or melee combat, the themes, motif, aesthetics, and setting could practically be anything. Platinum has had their fingers dipped in a number of franchises over the years, ranging from popular titles like Metal Gear to Cartoon Network's Avatar: The Legend of Korra to their own original IP like Vanquish.
One thing mentioned in the DualShockers article is that this new project will have a brand new director appointed over the project. So it's completely possible it could go in a direction none of us are expecting.
The article also mentions that Inaba isn't sure if they'll continue to release one game a year. Since they've already managed to get Nier: Automata out this year, this means that whatever their new project is may skip a 2018 release. However, additional info is expected to be released about the project between now and the next time Inaba addresses the public with a similar talk. So maybe that means some new info could drop at E3 this year, and if not at E3 then perhaps at the Tokyo Game Show in September?
It will be interesting to see what the Bayonetta developers have in story in regards to introducing gamers to a new intellectual property.
Staff Writer at CinemaBlend.
Your Daily Blend of Entertainment News
Thank you for signing up to CinemaBlend. You will receive a verification email shortly.
There was a problem. Please refresh the page and try again.