How To Get Free Loot In Overwatch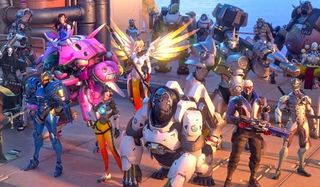 Blizzard and Twitch are getting all lovey-dovey, and fans of games like Overwatch are reaping the benefits. As a matter of fact, some fans will even get some free loot if they, too, are willing to join the lovefest.
Blizzard and Twitch/Amazon recently joined in a new collaboration. In short, Twitch will be the exclusive third-party streaming service for a bunch of upcoming Blizzard tournaments across games like Overwatch, Heroes of the Storm, StarCraft II and Hearthstone. That'll amount to more than 20 events over the next two years, according to Gamespot, including the Heroes of the Storm Global Championship, the Hearthstone Global Games and the Overwatch Premier Series, just to name a few. But Blizzard and Twitch aren't the only parties getting benefits from this partnership. Fans can expect some in-game goodies, too.
For starters, you need to be a member of Twitch Prime to get the goods. If you're a member of Amazon Prime, you're already included in those ranks. All you have to do is link your Twitch and Amazon accounts and, boom, you're ready to roll. From there, you can head to the Overwatch page on Twitch to grab a special code and start collecting your goodies. This includes a Golden Loot Box right off the bat in Overwatch, which guarantees you'll net yourself at least one Legendary item when you open it in-game.
The freebies don't end there, though. You'll also get five standard loot boxes dropped in your lap come August and another five in October. All told, that's 11 loot boxes for linking your accounts, one of which is basically guaranteed to include some sweet-as-hell goodies.
As the original story points out, the fun prizes don't end at Overwatch. Twitch has announced that additional goodies will be provided in other Blizzard games, specifically Hearthstone and HotS. We assume those freebies will follow a similar model, maybe with one top-tier loot pack in each game and a bunch of normal-tier packs spread across the next several months.
Seeing as how Blizzard is getting very, very serious about eSports leagues with its games, especially Overwatch, this could turn out to be an extremely successful collaboration for Twitch. As more and more fans tune in to watch major tournaments, it's kind of a big deal that Twitch will be the only place to get all of the action firsthand.
So what do you think, folks? Is this a match made in heaven or would you have preferred to see Blizzard partner with another streaming service? Are those in-game presents enough to get you to link your two accounts? Also, were you even aware that Twitch Prime was included as a perk of Amazon Prime? Let us know your thoughts on all of the above in the comments below.
Your Daily Blend of Entertainment News
Staff Writer for CinemaBlend.