Halo Wars 2 Gets 2 New DLC Packs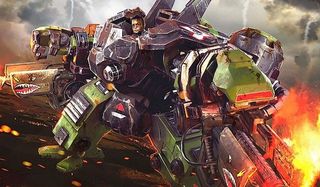 The battle is about to get fiercer than ever in Halo Wars 2, as a pair of DLC packs bring some new campaign missions and a returning Leader to the fray. Get ready for "Operation Spearbreaker" and "Serina."
Over on the Xbox blog, they've announced the deployment of two new DLC packs for Halo Wars 2, including a couple of missions that should make ODST fans happy, as well as a fan-favorite Leader joining the multiplayer battles. As is highlighted in the blog post, this is the next to last batch of DLC included in the season pass for the game, but you can also buy the two packs piece meal if you like. Both Operation Spearbreaker and the Serina pack can be yours for $5.99 each, or $9.99 in a bundle.
So what, exactly, do you get in this latest injection of content for the Halo universe?
The struggle is ongoing in Halo Wars 2, which means there's still plenty of fighting left to do in the story-driven campaign. Two new chapters will be unlocked with the Operation Spearbreaker pack that let players continue to battle for control of the Ark. A little homage to a Halo series offshoot, you'll be taking control of a group of Orbital Drop Shock Troopers this time around, better known as ODST. No plot details were spoiled in the update save to say that players will once again be trying to thwart the Banished's plans to turn the tide of war. Good luck stopping them!
As for the Serina pack, you'll want to consider picking this one up if you're really into the Halo Wars 2 multiplayer scene. This DLC will give you control of Serina as a Leader option, and she's got a bunch of "frost-featured forces" at her command. If you like slinging ice around the battlefield, then she's probably worth adding to your lineup.
So, with that out of the way, that means Creative Assembly and 343 Industries have just one more piece of DLC planned for the season pass. Sure, they may choose to keep launching content, but we imagine the story will wrap up whenever that next piece of DLC drops. It'll likely be accompanied by another Leader, too.
After that, it sounds like the wait for more Halo is going to be on the lengthy side. We haven't seen a lick of content from the next core game in the series and no other spin-offs have been announced at this point. In other words, make all of this Halo Wars 2 content last as long as you can.
Staff Writer for CinemaBlend.