Deadly Premonition Developer's Next Game Sounds Even More Bizarre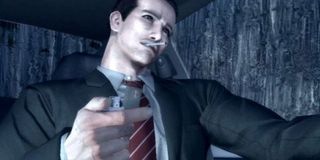 Hidetaka "Swery" Suehiro is a real out-there developer, and after coming off a string of bizarre outings like Deadly Premonition and D4: Dark Dreams Don't Die, Suehiro has yet another game on the horizon that's scheduled to make its debut on the crowdfunding service, Fig.
Polygon is reporting that Suehiro is attached to an all new studio called White Owls. The studio is working on a new game called The Good Life. The premise of the game is absolutely wild, as it involves a photographer from New York named Naomi who ends up traveling to a rural town in England, where there's a strange secret that looms over the town: At night the residents turn into cats.
It's such a strange premise, but it's not being described as a horror game or as a B-movie style thriller like Suehiro's previous titles. It's being described as a slice-of-life RPG. There will be the day time events where players explore the countryside village of Rainy Woods as Naomi as a human, and then there's the other side of the game, where players will explore the village at night... as a cat. Yes, even Naomi will turn into a cat.
The theme of the game centers around finding clues both as a human and as a cat, attempting to discover what makes the people turn into cats.
There aren't any descriptors beyond that relating to the gameplay. Suehiro explains that Rainy Woods is one of the happiest places on Earth, and that it's likely going to be a game that will "capture your heart".
The idea is that unlike the strange stories found in Deadly Premonition or D4, the whole point of The Good Life is designed to make people happy.
The game is a long way off from release, though. White Owls is looking to get the game funded through the crowdfunding platform, Fig, the same platform for Psychonauts 2.
At the moment the studio is still prepping for the crowdfunding phase. In fact, as of the writing of this article, there are still just over two weeks to go before the Good Life campaign gets underway. You can look for it to appear on Fig starting September 2nd. If you want to keep up to date on when it launches you can enter your e-mail address by registering on the Fig page.
This slice of life RPG will likely appeal to a lot of gamers who enjoy titles like Animal Crossing or Harvest Moon. The thing is, this game takes a decidedly different approach to other titles by giving gamers something offbeat and unique to do as opposed to many other games where you're running around shooting people or collecting loot.
I imagine the same gamers who may enjoy title like the upcoming Ooblets or off-center titles like Tokyo Jungle might take a fancy in a game like The Good Life.
A lot of the appeal will also likely depend on what platforms the game will be made available for and what sort of art-style the developers go for. We'll likely learn a lot more about this unique new game as it preps for the crowdfunding run on Fig.
Staff Writer at CinemaBlend.
Your Daily Blend of Entertainment News
Thank you for signing up to CinemaBlend. You will receive a verification email shortly.
There was a problem. Please refresh the page and try again.