How Assassin's Creed Is Coming To Final Fantasy XV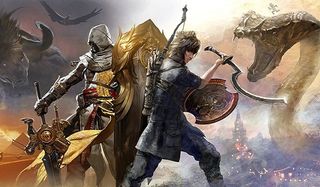 So, here's a crossover we never saw coming: The Assassin's Creed series and Final Fantasy series are going to be hosting some crossover events. Even crazier is the fact that trailers from both of these games apparently had Easter eggs revealing the upcoming collaboration.
Over on the Ubisoft blog, they've announced the Assassin's Creed Origins and Final Fantasy XV crossover, a promotion that will begin later this year with new content in the latter and, we're assuming, something fun hidden in the former when it finally launches this fall.
The crossover event was first announced this week at Gamescom, apparently the culmination of three years' worth of work. Apparently that's how long ago the development teams for Assassin's Creed and Final Fantasy XV got together to discuss their mutual respect. Somewhere in the mix they started talking about hosting some crossover content, and we're just now getting a glimpse of what that might look like.
The image at the top of this story came from the crossover announcement but, oddly enough, nothing displayed has been included in the actual content announcement. We have details on how this crossover will unfold in Final Fantasy XV, but not how it will come about in Assassin's Creed Origins. Ubisoft probably wants to get that game out the door before they start teasing fun DLC. But if you take a look at the image, it looks like chocobo from Final Fantasy might be popping up in Assassin's Creed, whereas an AC-inspired festival will be taking place in Final Fantasy. There's also a couple of massive beasts from each game displayed in the background, leaving us to wonder if they'll also be making an appearance. Finally, each character is donning gear inspired by the other game.
As for what fans can expect, we've already got info on the FFXV additions, all of which will be provided free of charge. On Aug. 30, FFXV players who have managed to grab the Dream Egg from the Moogle Chocobo Carnival event will earn themselves a free outfit for Noctis to wear. On Aug. 31, Assassin's Festival DLC will be launched for the game, which transforms the town of Lestallum for the event. You'll enjoy themed items and gameplay features themed after Creed, along with yet another new outfit and the ability to explore the map more like an Assassin. We assume that means you'll get to enjoy some sneaky, climby, stabby good times.
Honestly, this sounds pretty rad and we're looking forward to seeing how it all turns out. Also, it'll be cool to see what Final Fantasy stuff actually pops up in Assassin's Creed Origins when it launches Oct. 27.
In the meantime, check out this Final Fantasy trailer, this Assassin's Creed announcement trailer and this Gamescom trailer. Apparently they all have things hidden in them that hinted at this collaboration as far back as last year.
Staff Writer for CinemaBlend.
Your Daily Blend of Entertainment News
Thank you for signing up to CinemaBlend. You will receive a verification email shortly.
There was a problem. Please refresh the page and try again.