Overwatch's Newest Map May Hint At The Next Character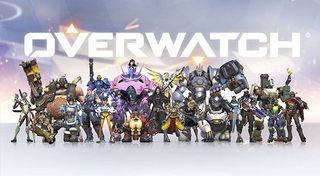 It wasn't but a few short months ago when everyone was completely head over heels for the release of Doomfist, one of the most talked about Overwatch characters in the game so far. Well, the hype train is pulling off from the Doomfist stop and heading to Junkertown, because there's a new character that everyone is going absolutely bonkers for.
While there are tweets floating around of the poster plastered across the upcoming Junkertown map in Overwatch, it's not just a matter of people being enamored with the poster featuring the Junkertown ruler known as "The Queen," they're also geeked that she could be the next playable character. In the poster it's kind of faded, but she's carrying a makeshift scepter that also seems to double as a mace or axe. It's difficult to see the entirety of the weapon, though, since it's cut off at the top.
She has a faux-hawk with a long ponytail braid and a mullet in the back. Her armor is classic Mad Max-style, with a spiked shoulder pauldron on one side, and a large custom piece of metal on the other. She has a t-shirt with an iron cross, with a skeleton in the center and crown on its head. Her face is adorned with war paint, scars and piercings.
Game Informer is reporting that a lot of the speculation spawns not just from the poster, but from the combination of the poster and the Queen's dialogue that played during the flyby presentation of the Junkertown map.
After seeing her on the poster, a lot of gamers jumped to the conclusion that this is obviously the character that Blizzard must be working on next for Overwatch.
The company has hinted at other characters joining the roster in similar ways. Throughout the updates released for the game there were hints about Doomfist's legendary gauntlet appearing in the Escort missions, and there was a lengthy ARG leading up to Sombra's appearance. Ana was leaked through a few images and later joined the crew.
Probably the one character who had the longest wait from speculation to actual reveal would be Doomfist. A large part of that was due to Hollywood actor Terry Crews getting involved with the community and making a huge thing out of it across social media, leading to the character and Overwatch gaining a lot of mainstream attention, including getting a nod from Hollywood heavyweight, The Rock.
If Blizzard is using the Junkertown map as an opportunity to tease the character, then the developers are already off to a hot start because the community is well aware of the Queen and have seemingly taken a quick liking to her already. Now it's just a matter of waiting to see if Blizzard capitalizes on the early hype.
Your Daily Blend of Entertainment News
Staff Writer at CinemaBlend.