Metal Gear Survive Has A New Release Date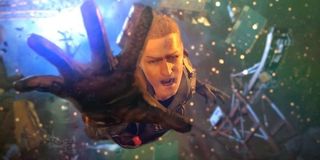 Metal Gear Survive disappeared off of the radar a few months back, but now it's popped up as a steady blip on the radar, with publisher Konami finally offering a release date more solid that "sometime early 2018." Get ready to tackle the legendary series' latest spinoff on Feb. 20.
The above tweet comes from Konami, where the release date for Metal Gear Survive has finally been announced. Set to arrive on Feb. 20 here in the States and Feb. 22 in Europe, excited soldiers can now pre-order the game. And if you get your pre-order in now, you'll also enjoy the game's bonus "Survival Pack" DLC. This pack includes four gold-plated weapons, a pair of extra in-game gestures, four metallic survival scarves to wear into battle, a "Kabuki" face paint, a cardboard box that looks like it can be worn as a hat and a Mother Base Nameplate.
Not to jump directly into complaints, but we certainly see where all of this is heading. In an age where every game has to have loot boxes and additional microtransactions, everything listed above sure does make it sound like the latest Metal Gear game will boast exactly that.
As for the game itself, Metal Gear Survive was first announced during E3 2016 and, not boasting a very big presence at this year's show, a delay was announced back in June. But, while we only knew that Survive was planned for an early 2018 launch up to this point, we now know that its arrival is only about four months off.
For those of you who haven't been following the game, Survive isn't your typical Metal Gear game. Carefully sidestepping the messy Konami/Kojima break-up and the fact that the latter is not in any way involved with the project, this new game is set in what appears to be an alternate reality. In the closing moments of Metal Gear Solid V: Ground Zeroes (itself a sort of prequel to The Phantom Pain) Big Boss' ocean fortress is wiped off of the map. As our hero disappears from view, a sort of portal opens up on the crumbling structure, sucking soldiers into another world. That world is littered with debris from our own world and what appear to be zombies. Yeah, I know, it's kind of insane.
As best as we can tell, Survive is going to be something like Fortnite. Players will scavenge for resources, build fortifications and fight off waves of baddies. We're not sure if this will be scenario-based, location-based or sport a more standard story.
But now that the game has an official launch date, we assume Konami will soon start rolling out additional promotional materials. We'll let you know as soon as a new trailer goes live. Otherwise, look for the game to arrive in late February on PlayStation 4, Xbox One and PC for $39.99.
Staff Writer for CinemaBlend.