When Final Fantasy XV's Multiplayer Will Finally Be Released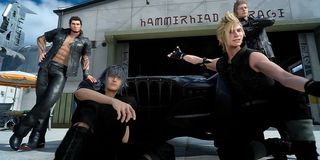 Though Final Fantasy XV is nearly a year old at this point, Square Enix continues to support the game with major updates. And while it's a bit later to the party than anticipated, we now know exactly when players will be able to return to Lucis to enjoy the multiplayer expansion. Pack your gear and get ready to group up on Nov. 15.
Earlier this year, Square Enix announced that the multiplayer expansion for Final Fantasy XV would arrive sometime in October. As is often the case with these sorts of things, that date was pushed back to some undetermined point in the future. Thankfully, the team apparently didn't need all that much extra time to get the mode ready for prime time. According to a recent tweet, we're only a week away from diving into "Comrades."
There isn't too much information in that tweet, but we only needed one piece of information to officially board the hype train. Whether you're still returning to FFXV regularly or are in need of a good reason to head back into the fray, Comrades should be everything you need to sink even more hours into the latest Final Fantasy.
As we originally reported, Comrades takes place in the middle of the main campaign. Careful to avoid spoilers here, there's a period of time when the heroes of FFXV have to step away from their roles as unofficial protectors of the realm. In their absence, a new collection of heroes stepped forward to help hold back the monster threat.
The structure of Comrades isn't all that different from an MMO or even a game series like Monster Hunter. Players will be able to hang around a central hub town to buy gear, make upgrades and take on quests. Once you're ready to roll, you can team up with other players to fight monsters and complete tasks. Final Fantasy XV's hack-and-slash combat fits this style of gameplay nicely, as it probably wouldn't be all that much fun to wait your turn in the midst of a more traditional RPG fighting system.
What's extra cool about this expansion is that it's going to give further details to a section of the campaign that didn't receive that much attention. Something similar has been done with the main cast of FFXV, with each member of the entourage getting their own DLC chapters to play through. This time around, though, you'll be creating your own character in order to write your own story in the history books of Lucis.
We're interested to see how this whole thing turns out, and it's also nice to see a developer continue to support a game so deep into its life cycle.
Staff Writer for CinemaBlend.
Your Daily Blend of Entertainment News
Thank you for signing up to CinemaBlend. You will receive a verification email shortly.
There was a problem. Please refresh the page and try again.