EA Purchases Titanfall Developer Respawn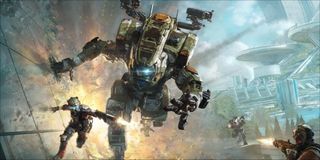 (Image credit: Electronic Arts)
One of the most respected studios in the gaming industry at the moment is Respawn Entertainment. The company got off to a slightly rocky start with Titanfall, but it really picked it up when Titanfall 2 rolled around, despite being undercut by some corporate tomfoolery. Well, EA appears to want to rectify that mistake by officially bringing Respawn under its wing.
GamesIndustry.biz recently published the news about Electronic Arts bringing Respawn under its wing, which arrives shortly after the company closed down Visceral Games. The report indicates that EA has purchased Visceral in a deal that may cost around $450 million.
A lot of the money will be paid out in a handful of deals worth over $100 million across stocks, cash, and performance considerations. If all goes well, this deal will run through 2022.
This news hasn't gone down well with gamers for very obvious reasons. EA just recently closed Visceral Games, the makers of Dead Space, and jettisoned majority of the staff. The company also announced it was repositioning the upcoming Star Wars game that Visceral was working on in order to make it more broadly appealing and live-service ready for release, similar to DICE's Star Wars: Battlefront 2 or Ghost Games Need For Speed: Payback, both of which have single player experiences tied to multiplayer online components.
While the deal for Respawn seems cut and dry, Kotaku is reporting that there were rumors that Respawn will be producing Titanfall 3 under EA's publishing label. Additionally -- and probably most frustrating -- is that EA's contract reportedly stipulates that Respawn's work on Titanfall 3 and the work that the developer will be putting into the upcoming Star Wars game will have bonuses reflected via the Metacritic scores.
Historically, tying bonuses to Metacritic scores has not turned out so well for some development studios in the past. Obsidian took a major hit when the company was a couple of points off its Metacritic average for Fallout: New Vegas, and BioWare Montreal was mostly dispersed after Mass Effect: Andromeda failed to light up the fires for critics. Now Respawn will be tasked with delivering blockbusters and achieving high Metacritic scores, lest the studio likely fall victim the same fate that others have in the most recent past when an AAA game fails to deliver.
What's probably most disheartening about the news is that Respawn didn't just have EA to choose from according to the Kotaku report; there was another offer from Nexon, the South Korean publisher known for producing free-to-play games and the publisher of the Titanfall mobile title. Why is that disheartening? Because it means Respawn was trapped between a rock and a hard place.
Nexon is known for its aggressive microtransaction models, and when things don't work out within a timely enough matter the games usually get the axe. Back in August the company announced that, after just a year of operation, Ghost in the Shell: First Assault was being shut down next month on December 6th, as reported by MMOs.com.
Nexon also shut down the game Sudden Attack 2 back in 2016, after just two months of operation, as reported by Steparu.
As you can see, it wasn't like Respawn had the most flexible offers on the table, according to the reports. We'll see how well the company adapts to being a full time developer under EA's label, especially after the publisher upended the potential success for Titanfall 2 by putting it out as a $60 purchase right in between the launches of Battlefield 1 and Call of Duty: Infinite Warfare.
Staff Writer at CinemaBlend.
Your Daily Blend of Entertainment News
Thank you for signing up to CinemaBlend. You will receive a verification email shortly.
There was a problem. Please refresh the page and try again.