Kickstarted Toejam And Earl Has Been Delayed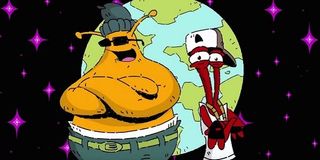 For those of you who were hoping to spend the holidays with Toejam and Earl, it looks like the dynamic duo won't be Back in the Groove until sometime in 2018.
Over on the Back in the Groove Kickstarter page, the team has announced that development of the game is not going quite as quickly as they had hoped. The new Toejam and Earl title was expected out sometime this year but, barring any recent updates, backers were starting to expect that the inevitable delay announcement would be popping up soon. And that's exactly what happened.
The announcement states that development "is an inexact science" and, since they want to make the game the best it can be, they'd rather take the time to do so than rush something out the door just to hit that planned launch window.
Unsurprisingly, the comments seem to be almost exclusively positive. These types of campaigns are typically backed by passionate fans who, more than anything, want to see their beloved IP handled with care. And as I've said a million times, anyone with a lick of sense would want a game done "right" rather than "right now."
But again, the update only says that development is being pushed into 2018, so we have no idea when the new launch window might actually be. While we appreciate the update, we wouldn't have minded at least a couple of details about where things are at this point.
Back when the campaign was active, the team set a rather lofty goal of raising $400,000 to develop Toejam and Earl: Back in the Groove. For those of you who weren't born in the previous century, the series features a couple of hip-hop-loving aliens who explore winding maps, pick up loot and battle all kinds of bizarre baddies. The games had a lot of zany style that can only be described as "90's as hell."
And while the series faded into obscurity, apparently there were plenty of old-school fans with a hankering for a return to Toejam and Earl's insane universe. The Kickstarter campaign brought in 8,873 backers who ponied up $508,637. That still left a lot of stretch goals open, including a soundtrack full of numbers from guest composers and development for the PlayStation 4, Xbox One and, reasonable at the time, Wii U. But it sounds like things are going okay, regardless.
Anyway, it's always a bummer to see a game get delayed, but we'd rather a small team take their time and nail the formula rather than rush out a half-hearted effort. Here's hoping the wait to rejoin Toejam and Earl won't be too much longer.
Your Daily Blend of Entertainment News
Staff Writer for CinemaBlend.