Ascent: Infinite Realm Is A New MMORPG From The Makers Of PUBG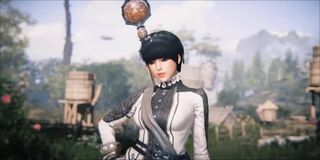 Bluehole Studios isn't content with having just TERA Online and PlayerUnknown's Battlegrounds under its belt. The company is currently working on an upcoming MMORPG called Ascent: Infinite Realm, which takes players to a realm beyond the norm.
The game was featured over on Bluehole's new YouTube channel for the game. The trailer clocks in at five minutes and showcases a ton of content for the upcoming massively multiplayer online role-playing game.
The entire trailer is a showcase of the game's in-engine capabilities, including starting off with a look at the game's majestic airships.
We then get to see more of the world of AIR, which includes fortresses being raided by mechs and players gliding through the air in personal fliers.
The mechs are very similar to the Magitek suits from Final Fantasy. The trailer also reveals that players will do battle against massive dragons in raiding parties. We also see how players will traverse through caves and 3D platforming segments, not unlike Guild Wars 2. The combat is themed around action-oriented, third-person combat.
In one sequence we see that Ascent: Infinite Realm has very similar weapons to Monster Hunter, with players running around wielding massive cannons while firing on giant beasts.
One of the game's major hooks is that it sports realm versus realm combat, this results in massive battles taking place across airships, on land, and in the air.
It's very similar to games like Allods Online, where players would work through the game, unlock airships and then go to battle against one another. The big difference here is that players aren't just restricted to the airships and can use gliders, jetpacks, and other means of travel to not only navigate the world but also to use them for combat.
It's not all about combat and fighting, though. The game also allows you to engage in travel quests, resource gathering, and even being able to build your very own house on a small lot of land.
You can gather additional resources by partaking in activities like fishing, cooking, and alchemy. The game is also filled with a number of other side-quests and mini-games, such as barrel racing, and gliding through rings to get the best times. The gliding segments seem very reminiscent of Pilot Wings, while the character designs are very similar to Black Desert Online.
The game looks like it's a performance-heavy juggernaut, and commenters on the video page have taken no quarter in making it known to Bluehole that the developers really need to fix up the way the game performs before releasing it in full. Nevertheless, if it turns out to be as popular as PlayerUnknown's Battlegrounds, then Bluehole could have another big hit on its hands.
Staff Writer at CinemaBlend.
Your Daily Blend of Entertainment News
Thank you for signing up to CinemaBlend. You will receive a verification email shortly.
There was a problem. Please refresh the page and try again.