Job Simulator Dev's Next Game Is Vacation Simulator, Of Course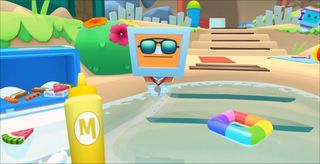 Owlchemy Labs is obviously working on a new game following on the success of Job Simulator for VR HMDs like the Oculus Rift and HTC Vive. However, when a company focuses on VR simulators, it should come as no surprise that its next game is called Vacation Simulator.
The trailer was one of many from a wide variety of developers that showcased the goods during The Game Awards 2017 event. We learned about Owlchemy Labs' game with a fresh look at Vacation Simulator via a trailer that clocked in at just under a minute long. Not a lot of details were shared in the trailer or on the blog post announcing the game.
Even still, the trailer starts underwater with some crustaceans walking around on the ocean floor near the shallow water off a pier. Things don't stay calm for long, though. A disembodied white-gloved hand reaches down and picks up the little sea critter, only to de-shell it and toss it away, thus signifying the return of the completely nonchalant and care-free gameplay that made Job Simulator so enticing.
Outside the water, several floating computer monitors are on vacation alongside the player-character, chatting and making comments as players interact with the surrounding environment, including putting mustard on a hotdog and eating it.
After eating the hot dog that a monitor claims that they were going to eat, another monitor from behind yells out to the player-character, only for them to turn around and have a beach ball thrown into their face.
The scene then begins to zoom out to reveal a cluttered yet vibrant beachfront area, with a small pier, a lot of computer monitors floating around the shallow area of the ocean, a cliff-ledge with water flowing off the side, and a dock shop with some other stuff inside.
The trailer for Vacation Simulator rounds out with one of the monitors asking if viewers would want to see the rest of the island, and then we find out that the game is coming to the PlayStation VR, the Oculus Rift, and the HTC Vive at some point in 2018. This is revealed via four burger patties nestled on an open grill while the player pours lighter fluid over the burgers.
It's quite obvious that Owlchemy Labs is taking everything that it learned from its previous outings and looking to make a more expansive VR experience for PSVR and PC users.
Owlchemy was also in charge of the VR title Rick and Morty: Virtual Rick-ality, which also came out for the PlayStation VR headset, Oculus Rift and HTC Vive back during the summer. So the company keeps a healthy dose of new VR titles rolling out every so many months.
If you enjoy miscellaneous VR games then it looks like you might have some fun messing around in Vacation Simulator when it finally does launch in 2018.
Staff Writer at CinemaBlend.
Your Daily Blend of Entertainment News
Thank you for signing up to CinemaBlend. You will receive a verification email shortly.
There was a problem. Please refresh the page and try again.