Lynda Carter Wants You To Help Save Single Player Games In Hilarious PSA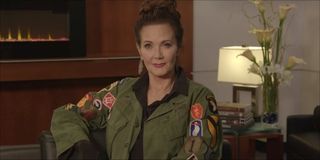 Electronic Arts shutting down Visceral Games and basically saying that gamers aren't interested in single-player games anymore caused a massive backlash against the company. Well, Bethesda decided to poke fun at the fiasco by having the iconic Wonder Woman actress and Fallout 4 cast member, Lynda Carter, issue a PSA to help save single-player games.
During this year's Game Awards, Bethesda bought out an advertising slot for a rather silly reason. Not to promote a game, not to highlight new DLC, not to shill for VR, nor to talk about any single project in particular. What was the video about? Well, it was about featuring former Wonder Woman icon Lynda Carter talking up the importance of saving single-player games.
The video was later republished on Bethesda's YouTube account, featuring a minute and a half of taking shots at EA while also highlighting many of Bethesda's own single-player games.
The minute-long trailer starts with Lynda Carter talking about how gamers around the world feel lonely from being shunned by fellow gamers enjoying multiplayer titles.
She explains that majority of Bethesda's AAA outings have single-player, story-driven narratives embedded deep within their DNA.
The PSA details how gamers can get their hands on single-player adventures, ranging from RPGs like The Elder Scrolls V: Skyrim, to action-adventure games like Fallout 4, to story-driven shooters like Prey, and even fast-paced action games like DOOM.
Of course, some of you might be wondering why Bethesda would put together a minute and a half long video promoting single-player games? Well, as mentioned at the top, Electronic Arts recently shut down Visceral Games, who were known for making epic single-player games like Dead Space.
EA had Visceral working on another single-player game codenamed Star Wars: Ragtag. The game was supposed to be a Star Wars rendition of Uncharted, following a ragtag group of non-Jedi characters as they attempt to navigate galactic space during the events following Star Wars: A New Hope.
However, EA decided to pull the plug on Visceral and announced that it would be cutting up and using whatever parts necessary for a project more-so centered around something that could be monetized with recurring player spend. Later on, EA stated that single-player, narrative driven games weren't as popular today as they were five or 10 years ago.
Obviously, that statement isn't true given the popularity of games like DOOM, Cuphead, Persona 5, and just about every other game Bethesda makes, hence the video. Heck, Nintendo just walked away with Game of the Year award for the single-player adventure game The Legend of Zelda: Breath of the Wild, proving that single-player games are still popular, both commercially and critically. Bethesda decided to hammer that point home during this past year's Game Awards.
Your Daily Blend of Entertainment News
Staff Writer at CinemaBlend.