New Code Vein Trailer Details The Vampiric Story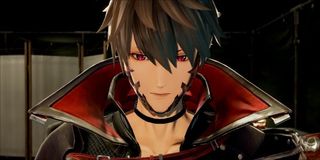 Bandai Namco's upcoming action-RPG, Code Vein, just received a brand new trailer detailing the game's story and characters. We learn about the purpose of the vampire warriors and the general theme surrounding their quest to rid the world of evil.
The trailer was posted on the official Bandai Namco YouTube channel. It's only two minutes long and starts with the main protagonist in what looks like a makeshift hospital. Presumably a nurse or medic explains that the main character was killed two days prior, but since he's a Revenant, he's immortal.
The trailer then zips over to show the main character running towards another character while inside of a towering, vaulted cathedral. During the fight the woman reveals via voiceover that if the main character becomes one of the "Lost," he'll be beyond salvation.
At this point we get a brief look at what are presumably the "Lost" in Project Vein's Code Vein. The rocking soundtrack kicks in, featuring some hardcore metal tunes from the appropriately named rock band duo, VAMPS.
The "Lost" appear to be some demonic vampire-types, looking like Drow-style versions of the vampires from The Legacy of Kain.
We get a brief look at some of the larger enemies in the game, some of whom look like they come right out of Dark Souls or Darksiders. Halfway through the trailer it's then revealed that all of the revenants need to drink blood in order to survive, and if they don't... well, then they either become "Lost" or perhaps they die for good. It's also revealed that all of the Revenant warriors were previously human.
The whole "Underworld" theme of the trailer -- which actually has nothing to do with the Kate Beckinsale action-horror movie series -- features some of the animated sequences put together for the story mode by the animation outfit, ufotable.
The animation sequences reveal that some of the Revenant seem to be able to manipulate special powers, similar to the popular anime Tokyo Ghoul.
There are a lot of characters with their own motivations and stories that we see throughout the trailer. How well the player-character will fit into all of this remains to be seen, given that gamers will be able to create their own character and customize them throughout Project Vein.
It seems to be a mix of games like Dark Souls combined with The Legacy of Kain but with a tinge of GodEater thrown in for good measure. Hopefully it manages to retain enough of its own identity so as not to get bogged down too much as a Dark Souls clone, which is what happened to Lords of the Fallen.
You can look for Project Vein, the rocking, anime-style action-RPG, to release in 2018 for the Xbox One, PS4 and PC.
Your Daily Blend of Entertainment News
Staff Writer at CinemaBlend.