Paladins Is Getting In On The Battle Royale Action With Battlegrounds Update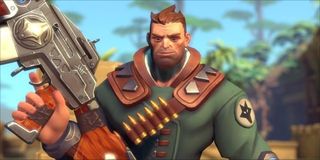 Hi-Rez Studios' Paladins has managed to become a smash hit in its own right as a free-to-play, first-person shooter. However, Hi-Rez wants to take the game to the next level by implementing a new Battle Royale-inspired mode into the game, turning it into Paladins: Battlegrounds.
The news about the mode spread rather quickly, where Hi-Rez announced that this would be the first-ever Battle Royale hero-shooter.
Yes, the company is attempting to re-position itself away from being the free-to-play Overwatch clone and instead aim to be a hero-shooter that plays out like PUBG Corporation's PlayerUnknown's Battlegrounds.
The trailer starts off showcasing that there are 100 players on the map, and as time goes on, all across the map various heroes bite the bullet and get offed. We see a number of scenarios where the heroes are laid out and completely incapacitated after getting blown up, shot, or damaged by their opponents.
The round doesn't end until there's one person standing.
To ensure that no one stands around camping the entire match, there's a deadly fog that encompasses the entire arena, and over time the fog shrinks down until there's just a small combat area remaining. The objective is to keep participants in Paladins: Battlegrounds actively engaged in combat and willing to duke it out until there's a single victor left.
This is identical to many other Battle Royale-style action games out there, where players are thrust into a map and must kill off 99 other players in order to secure a win. Fortnite ended up gaining a ton of popularity by introducing a free Battle Royale mode to the game, and more than 26 million people purchased PlayerUnknown's Battlegrounds in order to get a taste of the action.
This is a stark departure from the typical Paladins setup, which is basically like mixing in the character micromanagement from MOBAs like League of Legends or Dota 2, but with the hardcore gameplay from a first or third-person shooter.
Much like Star Wars: Battlefront 2, players can acquire cards to upgrade their characters and improve their hero's abilities. As evidenced on the Steam store page for Paladins, not a lot of people are keen on the whole thing because they feel it's a rip off other games. However, there are still fans who are excited to see how this new mode will play out.
Battle Royale modes are taxing on the hardware due to the requirements for a server to host 100 players going at it in a single instance, so Hi-Rez will have its work cut out for it when the Paladins: Battlegrounds mode goes live. At that point, the developers will be able to silence the naysayers with a quality product or prove them correct. The standard version of the game is available right now for home consoles and PC.
Staff Writer at CinemaBlend.
Your Daily Blend of Entertainment News
Thank you for signing up to CinemaBlend. You will receive a verification email shortly.
There was a problem. Please refresh the page and try again.