20,000 Leagues Above The Clouds Inspired By Firefly, Studio Ghibli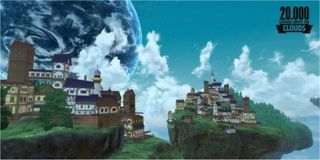 An upcoming game from That Brain is aiming to rival the likes of 3D airship games such as Guns of Icarus and the upcoming 2D survival game, WindForge, from Snowed In Studios. The name of the title is a play on Jules Verne's 20,000 Leagues Under the Sea, only it's called 20,000 Leagues Above The Clouds.
Indie Game Magazine recently caught wind of a new video from That Brain asking for something a little bit different from most other studios out there: they need help from game developers to bring the game to life.
That's right, they're not looking for funding, crowd-sourced support or any of that beggary that has become well known in most circles surrounding indie titles. Instead, That Brain just needs a 2D art and graphic design artist, a writer and a programmer.
The video they released to pitch for said help is pretty impressive. Check it out below.
As mentioned in the video, the team wants to bring a single-player, RPG airship game to life unlike a lot of other titles out there. They want characters like Joss Whedon's Firefly and Bioware's Baldur's Gate, as well as art and atmosphere like the animated films produced by Studio Ghibli. Ambitious fellows, eh?
They need help bringing these ideas to life – and at the halfway mark of the video above, you can see just how far along they are with those ideas and their actualization in the 3D game space.
20,000 Leagues Above The Clouds is a fascinating concept, but I don't know entirely how well it'll fit into a genre with ever-shrinking space for clones. Then again, the "Minecraft in space" genre still seems to have ample room for growth, with games like Starmade and Space Engineers still having their own respective communities. So maybe there's still room for 20,000 Leagues amongst all the other airship games out there.
I'm more interested in the game's scope beyond airship battles. One of the big appeals of WindForge is that players can hop off their ship and scavenge through procedurally destructible environments. The added appeal is being able to shoot, destroy, damage and terraform with the ship, or by using drilling tools. It's a pretty awesome design that's going to be hard to rival by other airship-based games out there.
Still, if That Brain can manage to marry some strong writing with a compelling mix of dynamic gameplay and airship combat – almost similar to the frantic and exciting airship battles featured in Guns of Icarus – then it could turn out to capture its own niche audience.
You can learn more about 20,000 Leagues Above The Clouds by paying a kind visit to the official website. Alternatively, you can learn more about That Brain or attempt to join the development team by visiting their official website.
Your Daily Blend of Entertainment News
Staff Writer at CinemaBlend.