2029 Online MMO Is A Mix Of Diablo And Warcraft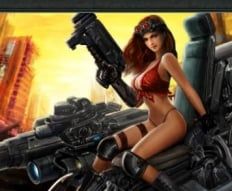 IGG recently announced a new science fiction MMORPG going by the name of 2029 Online. As if I really need to say, the game is set in the future and is all about fast-paced, corridor crawling, monster blasting action.
The game sports the option for players to customize items, gear and vehicles, a level-up feature for fighting vehicles, and a three-quarter view for intense Diablo-esque action. What's better is that the game focuses a lot on cooperative quests and missions for quick leveling, much like World of Warcraft. So players who enjoy grabbing up tons of items and weapons, customizing their player and staying engaged with hours of dungeon crawling quests, 2029 Online just might be your kind of game.
Supposedly, 2029 will sport quick in-game commands to keep the action tight and the player's hands away from multitasking all kinds of keyboard commands. Streamlined skills and weapons that range from close-combat to dual-wielding twin laser machine guns also fill out the game's feature list.
You can learn more about 2029 Online and other IGG MMORPGS by visiting the Official 2029 Online Forum Website. For more gaming news and updates, be sure to stay tuned in with Blend Games.
Image 1 of 2
Your Daily Blend of Entertainment News
Staff Writer at CinemaBlend.