Dragon Age Producer Responds To Fears Of Microtransactions In The Next Game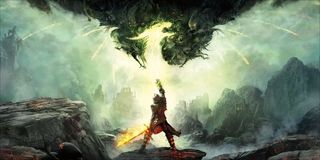 (Image credit: Electronic Arts)
It seems like Electronic Arts and BioWare just can't seem to stay out of the headlines for news that sends rumblings to the stomachs and chills down the spine of gamers who are hoping for good news, but always seem to have to brace for bad news. Well, in this case, the producer on the upcoming Dragon Age has attempted to quell worries over microtransactions in the next game.
The news came courtesy of a tweet from the executive producer, Casey Hudson, on the upcoming Dragon Age game, which many are tentatively calling Dragon Age 4. Hudson posted the message on Twitter to help assuage fears about microtransactions in the upcoming game..
Hudson doesn't necessarily mention microtransactions or loot boxes or DLC, but instead talks about how there is a lot of "feedback" about the upcoming role-playing game and that it's too early to talk about the details at the moment. He does, however, address the use of the word "live" that has popped up during a recent report about the development culture taking shape for Dragon Age at BioWare.
Oftentimes "live" features relate to online features that are persistent for the lifespan of the game, such as cash shops, cosmetics, loot boxes, or content delivery mechanisms that maintain residuals in perpetuity. Hudson attempted to calm the nerves of gamers by explaining that the "live" features that have been discussed for the next entry in the Dragon Age franchise relate to storytelling structures that take place after the main story.
Even then, I'm sure some gamers are a bit perplexed as to why talks about post-story content would even enter the discussion at this point when the main story is neither disclosed nor available for purchase.
In recent times there has been such a massive focus on DLC, microtransactions and loot boxes for most AAA games that gamers have been vociferous about protesting these monetization methods more often than usual. A lot of it all came to a head with the microtransactions in Star Wars: Battlefront 2, which happened to be so pervasive to the game's core functionality and done in a way that many casual gamers saw it as a form of gambling, that even parents who don't play games began bringing their grievances to the doorstep of Disney to have the loot boxes removed. EA, under guidance from Disney, obliged.
Since then, gamers have been keeping an extremely close eye on loot box and microtransaction news in relation to EA's properties. So, of course, any discussions about "live" features appearing in an upcoming Dragon Age game has put many gamers on edge.
In the thread that Casey Hudson made on Twitter, there are still plenty of concerned gamers expressing preemptive disapproval of BioWare even considering adding microtransactions or loot boxes or heavily gated story content behind paywalls to the upcoming Dragon Age game. On the upside, some analysts believe that we'll see fewer microtransaction models in 2018 following the Battlefront 2 fiasco.
Staff Writer at CinemaBlend.
Your Daily Blend of Entertainment News
Thank you for signing up to CinemaBlend. You will receive a verification email shortly.
There was a problem. Please refresh the page and try again.