Angry Birds Is Getting In On The Super Bowl LII Action With New Content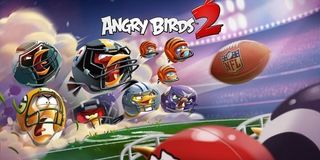 Angry Birds fans looking to get into the Super Bowl spirit are in luck. The developers at Rovio and the folks over at The NFL have announced a partnership bringing "big game" content to a pair of bird-flinging games, just in time for Super Bowl LII.
In a press release from Rovio, the studio announced it has established a collaboration with The NFL to offer some unique content and game modes for both Angry Birds 2 and Angry Birds Evolution. Available now, this limited-time event will let players do things like outfit their flock of birds with NFL jerseys and helmets, as well as compete in new Super Bowl-themed levels. There's also some unique in-game competitions being hosted as part of the celebration. If you haven't played an Angry Birds game in a while and are looking for a way to kill time between now and Sunday, this might be worth checking out on iOS or Android devices.
Rovio broke down what content will be available in each of the games they currently support, beginning with Angry Birds 2. There, you'll be able to deck your flock in gear from all 32 teams within the NFL while competing in the special Super Bowl levels and competitions. They didn't offer details on what those levels or competitions might look like, so you'll just have to boot up the game and give it a gander if your curiosity is piqued.
Over to Angry Birds Evolution and 32 NFL-themed characters have been introduced into the game. Players will also have an opportunity to earn a new exclusive bird called the "Quarterback," who wears an NFL jersey. Finally, the PvP mode known as "The Oinktagon" has been transformed for a limited time to look like a football field.
Once again, this is a limited time affair, so you'll want to jump in on the action ASAP if you want to have some fun before the games revert back to normal. The promotion is live though Super Bowl Sunday, which just so happens to be tomorrow. If you've already managed to get in a few rounds with the Super Bowl content, feel free to fill us in on any additional details in the comments below.
As far as we've seen, no other mobile game has set up a partnership with The NFL this year for exclusive content or modes, which we figure speaks volumes for the continued popularity of the Angry Birds games. However, this is the first big announcement we've seen out of them in quite a few months. That's got us wondering what Rovio might be doing behind the scenes at the moment, as we figure they're about due for a new game.
Staff Writer for CinemaBlend.
Your Daily Blend of Entertainment News
Thank you for signing up to CinemaBlend. You will receive a verification email shortly.
There was a problem. Please refresh the page and try again.