Twitch Prime Is Giving Away An Indie Game Free Of Charge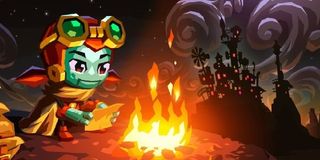 Twitch Prime's Indie Amplifier promotion is putting eight indie games in the spotlight for the next couple of weeks and, following a vote from the community, all Prime members will be granted a free copy of one of the titles.
The folks at Twitch this week announced a unique promotion meant to draw attention to indie developers and the games they have created. Between now and March 15, the Indie Amplifier program will boast streams of a collection of eight games, as well as interviews with the teams that made them. The games include:
Tomb of Annihilation (Dungeons and Dragons), from Bkom Studios
Tumblestone, from Quantum Astorphysicists Guild
Treadnauts, from Topstitch Games
High Hell, from Devolver Digital
I, Hope, from Double Plus Good Games
Shadow Tactics, from Daedalic Games
Kingsway, from Cartoon Interactive
Steamworld Dig 2, from Image & Form
Over the next couple of weeks, Twitch's Giantwaffle and bacon_donut will help steer the content, offering loads of streams featuring the eight games and heart-to-hearts with the developers. These will be part of the Twitch Prime Indie Amplifier programming. At the same time, Simcopter1 and DizzyKitten will also be streaming the eight participating titles, giving viewers a chance to learn more about each title and make a better-educated decision about which game they would like to receive for free. At the same time, we figure folks will be getting some cool behind the scenes peeks at development from an indie perspective and, as we're sure is the intent of the promotion, maybe even convince some folks to pick up a game or two along the way.
Voting will be open through Sunday, March 11, with the winning game being offered free of charge to all Twitch Prime members on Thursday, March 15. To vote, just head to the official Indie Amplifier page and pick one of the games. Obviously, it might make a bit more sense to hold off on voting and tune in for some of the streams to learn more about the games. Games like Tomb of Annihilation and Steamworld Dig 2 are pretty well known at this point, but some of these games are fresh blips on our radar. Again, that's kind of the whole point; spreading info about potentially overlooked games from dedicated, smaller teams.
As an added bonus, Twitch Prime isn't just giving away a bunch of free copies of the winning game. Whichever developer proves victorious will also earn a $175,000 prize pool, so that's certainly a nice incentive to get involved.
So, you've got a couple of weeks, folks. Watch some streams, make a decision, cast your vote and, come March 15, everybody will be receiving a free game. If you've got a particular game you want to sell us on, feel free to add your thoughts to the comments below.
Your Daily Blend of Entertainment News
Thank you for signing up to CinemaBlend. You will receive a verification email shortly.
There was a problem. Please refresh the page and try again.