Ubisoft Is Buying Studios Left And Right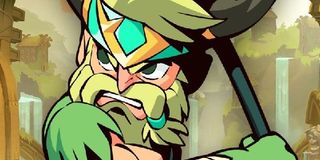 Ubisoft seems to be beefing up its roster, recently scooping up 1482 Studio and Blue Mammoth. Both of those teams have already earned some recognition in their niche corners of the market, so it will be interesting to see what they're able to do with one of the biggest publishers in the world backing them.
This news would perhaps be less noteworthy had Ubisoft (opens in new tab) spread out their acquisitions. Instead, they inked a deal with 1492 at the tail-end of February and, within about a week, announced they had picked up Blue Mammoth, too. It could always be just a matter of convenient timing but, stacked on top of each other like that, it seems like a pretty aggressive move for Ubisoft. Both studios have also created some waves in their corners of the game-iverse lately, so maybe Ubisoft was just in the market to acquire a couple of promising studios.
First up is 1492, who Ubisoft added to their umbrella on Feb. 28. That name might not be familiar to folks who stick to console games like Call of Duty or Assassin's Creed, but they've gathered a pretty devoted following on the mobile market. The team at 1492 have become popular courtesy of their Is it Love series of games. These are episodic, free-to-play narratives where players get to pick their own path, similar to the Telltale series of games. If the series title didn't give it away, the narrative-driven dramas are all about finding romance. Based on a press release from Ubisoft, the Is it Love series has earned quite a following, becoming a top-five grossing mobile simulation game in France, where the studio is located, and a top-20 contender for the same category in the U.S.
The team at Blue Mammoth has gone a bit more mainstream with their recent success, producing the fighting game Brawlhalla. Picked up by Ubisoft on March 2, Blue Mammoth's brawler sees players duking it out on a 2D arena with a large roster of characters offering unique abilities. It's a lot like Smash Bros., which is certainly a decent template to borrow from.
Blue Mammoth hails from Atlanta and boasts a team of just 21. What likely drew the attention of Ubisoft is the fact that Brawlhalla, though being made by an indie team, has catapulted to success as the number one fighting game on Steam. This free-to-play fighter has grown steadily in popularity since its launch, becoming a bigger draw for eSports and, more recently, finding success on the PS4 after finally making it to consoles.
For the time being, we wouldn't be surprised to see Ubisoft simply offering its expertise and resources to both of these studios in order to build on their success. In the future, though, it might be cool to see either team put to work on an existing Ubisoft property. Maybe a series of interactive dramas for mobile set within the Far Cry universe or an Assassin's Creed fighter?
Staff Writer for CinemaBlend.
Your Daily Blend of Entertainment News
Thank you for signing up to CinemaBlend. You will receive a verification email shortly.
There was a problem. Please refresh the page and try again.