You Can Now Pre-Register For EA Play 2018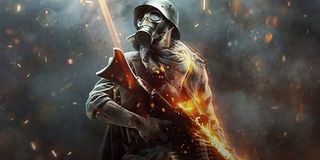 Whether or not you're planning on purchasing tickets to E3 2018, you can get in on some gaming action free of charge courtesy of EA Play. As a matter of fact, the event is now open for pre-registration.
If you're planning on being in Los Angeles between June 9-11, you might want to consider pre-registering for EA Play 2018, taking place as part of the E3 festivities, though not technically tied to the big shindig going down at the Los Angeles Convention Center.
To get signed up, simply head on over to EA's official website and click on the big pink "Pre-Register" button a few paragraphs into the event update. As noted in the brief rundown, participants will be the first to get their hands on some upcoming EA games, including all of the expected EA Sports romps, as well as whatever the next Battlefield game turns out to be. EA hasn't let a title slip yet, but we doubt that particular detail is going to determine whether or not you want to take the new shooter for a test spin. No other games are mentioned specifically in the announcement, but EA did make sure to drop in a reminder that the event will be free of charge. It takes place at the Hollywood Palladium, which is only a handful of miles from the rest of the E3 showcase.
EA held a similar event last year, though it was a little rough around the edges in terms of space and making sure folks had an opportunity to actually play the games. This year, there will be two ways to get in on the action. If you pre-register, you will be given an opportunity to book a play session for one game. If you've got said ticket, you get priority access to EA Play. Otherwise, there will be a stand-by line available for everyone else. This option will likely eat up more of your schedule and may result in a wasted effort if time runs out, but it's an option. In other words, if you know you plan on attending, you might want to take advantage of that gameplay ticket option.
Once you pre-register, participants will be sent final details for completing their registration on May 25; that's when you'll be able to pick your attendance day and claim a gameplay ticket. That'll be on a first come, first served basis, so be sure to finish your registration as soon as the May 25 notifications roll out. Once you get through that final leg of the process, you'll be sent a confirmation email with your attendance barcode attached. After that, just show up to EA Play and have yourself a blast.
To pass the time until EA Play 2018, we'd be interested in hearing your ideas about where the next Battlefield game will be set in the comments below.
Your Daily Blend of Entertainment News
Staff Writer for CinemaBlend.