Arcade Racer GRIP Looks Fast-Paced And Explosive In Launch Date Trailer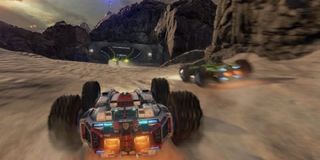 Arcade racing is making a big comeback and this fall Wired Productions and Caged Element Inc. are inviting players to grab the wheel, put the pedal to the medal and cross the finish line first in GRIP. And did we mention you can actually fire rockets at other cars in this game? Because, as is pointed out in the new trailer, you totally can. Even better, the game's testing phase has apparently been going really well, so we don't have too much longer to wait before finally stepping into the driver's seat. Take a look.
Video game trends are cyclical. About a decade ago, you couldn't throw a license plate without hitting a rad arcade racer like MotorStorm, Pure, Split/Second , Stuntman or Burnout. Next thing you know, driving simulators like Forza and Gran Turismo pulled into the lead, leaving arcade racers in the rearview mirror.
It seems fans (or at least developers) are ready to return to the glory days of fast and furious insanity on the race track, as more and more arcade racers have started popping up again. We've got games like Onrush and Burnout: Paradise Remastered leading the charge and, this fall, GRIP will be joining the pack.
The above clip is called the "Release Date Trailer," though Wired isn't offering much more than a window. Still, Fall 2018 isn't too far off and, since the game has been in testing over on Steam for a while now, we figure the team has a good handle on how much work needs to be done.
What's cool about GRIP is that it's quite a bit different than your typical arcade racer. The vehicles are reminiscent of those big-wheeled, flippy, remote-controlled cars the kids like to play with these days -- the kind that can keep right on rolling no matter what side they land on.
More importantly, though, is the fact that GRIP will have an arsenal of weapons for players to take advantage of. Shooting fools while driving has been a time-honored tradition since the original Super Mario Kart landed on the SNES, and we're happy to see that tradition upheld in a game that looks to offer some seriously insane racing action.
And the title is more than a pretty word. These cars literally "grip" just about any surface, so you'll also be racing across walls, ceiling and even in full spin through tunnels. Add that to the fact that the cars move upwards of 767 mph, and it sounds like a heck of a lot of racing fun. At launch, GRIP will boast 19 tracks set on "a variety of hostile and foreign worlds," according to the launch announcement, as well as 11 weapons and power-ups including mines, missiles, shields and turbo. Even cooler is the fact that the environments are interactive, so you might want to try launching some of those rockets at your surroundings in order to create more destruction or possibly even an alternate route.
Look for GRIP on the PlayStation 4, Xbox One, Switch and PC sometime this fall.
Staff Writer for CinemaBlend.