Unravel Two Is Getting A Free Trial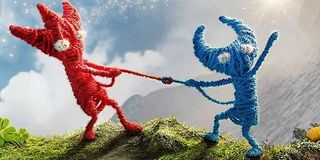 Announced and launched during E3 2018, Unravel Two takes the series' clever platforming and cranks the dial up a notch, requiring players to tackle all sorts of new cooperative puzzles alone or with a friend. If you're not quite sure if Unravel Two is for you, though, the developers have announced a free trial that will be available for the next month. Grab it on your platform of choice and get ready to unspool a brand new adventure.
Over on the Unravel Two official website, EA has announced a limited-time trial for the recently launched game. Much like the first Unravel, this sequel was shown off for the first time during E3, a couple of weeks ago, and then dropped onto digital storefronts at the very same time.
If you haven't taken the game for a spin just yet, though, EA has announced a pretty impressive free trial that lets players explore the first two levels in the game for 10 full hours. The levels are full of paths, puzzles, hidden secrets and dangers, requiring quite a bit of clever exploration and teamwork. In other words, you're probably going to need all 10 of those hours to experience everything on offer.
To try out Unravel Two for free, simply pop onto the PlayStation 4, Xbox One or Origin PC and download the game. From there, you've got a bunch of time to play through the first two levels alone, with a friend, or any combination of the two. A special note is included in the announcement to make sure you log out of the trial completely when you're done playing for a particular session, otherwise the clock will continue to tick down toward zero.
This trial period is available from now until July 30, so be sure to download the game and give it a try. Just like with similar trial periods, any progress you make will carry over to the full game, if you decide to buy it.
What really sets Unravel Two apart from its predecessor is the presence of two Yarnys. You can control the duo on your own, but the real fun comes from working with a partner to unravel the game's many platforming puzzles. Similar to the indie game Chariot, you'd be surprised how many clever ways puzzles can make you flex your mental muscles when you've got two characters tethered together.
As for the trial period, this process has proven successful for EA and other publishers in the past. From Overwatch and Prey to For Honor and The Division, publishers are catching on to the fact that a good way to win over new customers is to have them try your game for free. There are few better ways to push someone off of the fence than to give them a couple free hours with a game they've got an interest in.
Staff Writer for CinemaBlend.
Your Daily Blend of Entertainment News
Thank you for signing up to CinemaBlend. You will receive a verification email shortly.
There was a problem. Please refresh the page and try again.