Assassin's Creed Origins' Discovery Tour Was Actually Pretty Good At Teaching Students About Egypt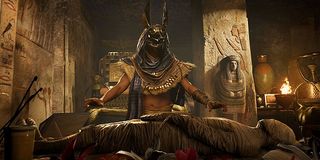 Based on a recent study, youngsters who explored the educational Discovery Tour mode in Assassin's Creed: Origins actually learned a thing or two about ancient Egypt. The game's results in the study lagged behind receiving a lecture from a physical teacher, but not by much. If nothing else, it makes a strong argument for video games being used as an educational tool rather than just the "violence simulator" many still perceive them as.
What's funny about that dichotomy is that the Discovery Tour mode that helped educate students is actually a part of a very violent video game series, Assassin's Creed. Still, the mode's inclusion in Origins was seen as a welcome addition, as many folks who play these games are genuinely interested about the times and regions where the games take place.
Details about this recent study were presented during the Games for Change Festival, via Variety, an event that highlights software making big strides toward inclusiveness and advancements in the industry. Games included in this year's awards presentation, for instance, include Life is Strange: Before the Storm, Hellblade: Senua's Sacrifice and What Remains of Edith Finch.
According to the study, students who took part in the Discovery Tour in Origins demonstrated a 44 percent improvement in their knowledge of material pertaining to ancient Egypt. Students taught the same material from a teacher saw an improvement of 51.
Keep in mind this was a very limited study, only including 40 students total. All of those students were tested on their knowledge of the subject matter to get the ball rolling. After that, 20 were sent off to play through the Discovery Tour in Assassin's Creed Origins while the other 20 were taught by a teacher. Students circled back to take the test again, yielding the above results.
The Discovery Tour is a new feature for Assassin's Creed, which hasn't actually been announced as being a part of the upcoming series entry, Odyssey. In it, all of the game's combat is turned off, allowing players to freely explore the world and investigate things they find interesting. There are 75 "tours" in the mode tackling all sorts of subjects, giving participants a better understanding of the world around them.
Following the study, students were asked about their experience. Those who sat with a teacher explained that it was easier to know what information they were being provided would appear on a test. Also worth noting is that the kids who played through the Discovery Tour admitted they probably wouldn't have turned it on if they were on their own when they could have just been playing Assassin's Creed instead. You can take a horse to water, etc.
While maybe not a substitute for a lecture, it's clear that the students who played through Discovery Tour were learning. And while this study wasn't super deep, it probably provided some beneficial details when considering how to improve similar modes in the future.
Staff Writer for CinemaBlend.
Your Daily Blend of Entertainment News
Thank you for signing up to CinemaBlend. You will receive a verification email shortly.
There was a problem. Please refresh the page and try again.