Madden NFL 19 Cover Athlete Revealed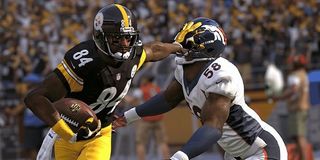 With Madden NFL 19 set to launch in just a few weeks, Electronic Arts has finally pulled back the curtain on this year's cover athlete, revealing that Pittsburgh Steelers wide receiver Antonio Brown will be the first thing players see when they pick up the game. If you're the superstitious type, you can now start worrying over whether or not Brown will become the latest victim of the dreaded Madden Curse.
Brown has had a hot run over his past five seasons in the NFL, averaging more than 100 receptions and 1,200 yards on an annual basis. He's a prime candidate to grace the cover of a Madden game, so most folks weren't too surprised when EA finally revealed he would be the 2019 star. Of course, some folks weren't surprised simply because this fact may or may not have leaked onto the internet a few days ago. Either way, we've got our fingers crossed that his appearance on the game's cover in no way hampers his upcoming season with the Steelers. While some players have managed to buck the trend, many who take center stage for Madden's annualized football game wind up injured or having an off year. It's kind of spooky, actually.
But all of that mumbo-jumbo aside, Brown said he's looking forward to being this year's cover star for Madden. That honor includes the regular game, as well as the mobile outing, Madden NFL Overdrive.
Madden NFL 19 is set to launch on the PlayStation 4, Xbox One and PC on Aug. 10. For those keeping score, this is the first time in over a decade that Madden has launched on the PC, showing EA is pretty serious about getting this latest edition of the game into as many hands as possible. On the mobile front, Madden NFL Overdrive launches for iOS and Android on Aug. 15, allowing fans to enjoy a more streamlined football experience on the go.
As with each version of Madden, this latest edition to the series will see the usual slate of tweaks and fresh additions to the game. EA is really pumped about Real Player Motion, its new control technology that makes the virtual players move more realistically than ever before. Also earning a big bullet point is the return of the Longshot mode, which adds a narrative hook for players looking to experience a more personal story.
Or, sure, you can just pick a team, pick an opponent and get to playing some football. Your call.
Staff Writer for CinemaBlend.
Your Daily Blend of Entertainment News
Thank you for signing up to CinemaBlend. You will receive a verification email shortly.
There was a problem. Please refresh the page and try again.