One Way To Get In On The Call Of Duty: Black Ops 4 Multiplayer Beta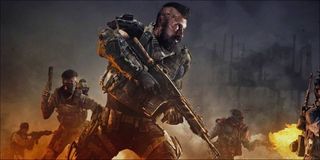 (Image credit: Activision)
Before the release of any major Call of Duty game these days, Activision has made it a standard practice to host a multiplayer beta in order to ensure that the game works right out of the gate during the release week, which is arguably the biggest and most important time of the game's lifespan. After the launch month hiccups suffered with Black Ops 2 Activision has been a lot more keen on having beta tests to ensure that the newer Call of Duty titles launch without a hitch. The same applies to the upcoming Call of Duty: Black Ops 4, which will also receive a multiplayer beta ahead of release. For gamers intent on playing through the new first-person shooter for home consoles and PC early, there's actually a special way to get into the multiplayer beta for Call of Duty: Black Ops 4.
According to the Xfinity page for Call of Duty, there's a sweepstakes that will allow a certain number of gamers to get firsthand access to the first person shooter beta simply by registering through the website.
I know this probably seems way out of the blue given that many of you are probably wondering what Xfinity has to do with Call of Duty, but it's a collaboration between the cable giant and Activision. Once you click on the "Enter" button you'll be taken to a registration screen where you'll need to select what market you belong to within the United States. You'll need to input your name, address, zip code and phone number, and certify that you're over the age of 18.
There are a few other caveats as well, such as having to comply with the sponsor's policy and confirming that you're a current member of Xfinity.
If you're not a member of Xfinity, then you'll either have to become a member or look for an alternative way to join in on the Call of Duty: Black Ops 4 beta. I'm sure a lot of gamers will be disappointed at this particular requirement, but, as stated, if you're already registered then this shouldn't be too much of a problem for you.
So, the basic gist of it is that Xfinity members will be chosen at random after registering for the sweepstakes and will be invited to the locations at the Xfinity stores on select dates. This will take place throughout eight different markets in the United States, as noted during the registration phase.
If you are a member and you are in the U.S., the dates for the private multiplayer beta commenced on July 16th at the Washington, D.C., store. The Boston, Massachusetts test took place on July 19th, and July 23rd saw an event in Philadelphia, Pennsylvania. The next event will be held on July 28th in Houston, Texas. After that, there will be other beta tests on August 4th in Seattle, Washington, September 7th in Chicago, Illinois, September 11th in Indianapolis, Indiana, and, finally, a test on September 15th in Atlanta, Georgia.
These beta tests, much like the ones for Battlefield V, are all scheduled to take place just ahead of the release of Call of Duty: Black Ops 4 on October 12th this fall. If you're an Xfinity member and want to check the game out, feel free to register now.
Staff Writer at CinemaBlend.
Your Daily Blend of Entertainment News
Thank you for signing up to CinemaBlend. You will receive a verification email shortly.
There was a problem. Please refresh the page and try again.