The Elder Scrolls Online's Wolfhunter Expansion Is Almost Here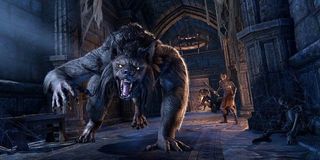 While unlikely to coincide with a full moon, we now know when to expect the Wolfhunter expansion for The Elder Scrolls Online, thanks to a recent announcement at QuakeCon 2018. Polish your silver weapons and prepare to let the fur fly on Aug. 13 for PC, and Aug. 28 for console versions of the game.
Like any good convention, QuakeCon has provided us with a heck of a lot of information about a heck of a lot of Bethesda games. From Quake itself to DOOM, Rage 2 and now The Elder Scrolls Online, we've been given plenty to look forward to in the year ahead. This latest announcement comes to us via Polygon, who are reporting from the event.
The continued success of The Elder Scrolls Online is a testament to the work put in by the folks at ZeniMax. When the original version of the game launched back in 2014, it received a lukewarm reception. Rather than let the game fade into the background, the developer put their heads down and worked on a major overhaul, completely revitalizing the game with a massive update that brought fans new and old into the game world. Since then, TESO has received numerous big updates full of new realms to explore, quests to complete and enemies to vanquish.
And that's what's so exciting about the recently revealed Wolfhunter content. Werewolves have been a part of the Elder Scrolls universe since the second game in the RPG series. On top of fighting the brutes, players can actually become a lychenthrope in modern iterations, unleashing all sorts of devastation on your enemies.
The trailer for the Wolfhunter expansion seems to have players pretty excited, giving everybody some spooky adventures to go on right before Halloween. This should also serve as a nice tide-ya-over while waiting for the Black Marsh content, Elder Scrolls Online's next major content update that will finally give us more information about the Argonian race.
The Wolfhunter trailer promises that "they have your scent and nothing will stand in their way," making us question which group should be considered the "hunter" in this particular expansion. From marshes to crumbling castles, we get several nice shots of werewolves being menacing while players work together to bring them down. There also seems to be some new wolf-themed armor on display, as well as a massive werewolf that is surely going to pose a challenge for even the most seasoned of players. Also, it appears a massive representation of the deer-headed spirit Hircine is chilling in the background of a couple scenes, so that should be exciting for lore hounds.
If you get the collector's bundle, Bethesda is promising some bonus items that appear to be a matching set of armor for your character, companion and, yes, even your horse.
Staff Writer for CinemaBlend.
Your Daily Blend of Entertainment News
Thank you for signing up to CinemaBlend. You will receive a verification email shortly.
There was a problem. Please refresh the page and try again.