For Honor Is Currently Free On PC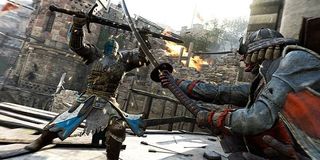 Ubisoft if looking to beef up the For Honor army before rolling out its next major expansion so, for a limited time, everyone can download the standard edition of the game free of charge on Steam. That should give you plenty of time to learn the ropes before the Marching Fire expansion introduces a whole new faction, new game modes and more on Oct. 16.
In the midst of Gamescom, Ubisoft revealed that, on top of For Honor currently being included in the Games with Gold lineup for Xbox One, the standard version of the game is also free of charge on Steam for all comers. You'll need to act quickly, though, as the offer ends at 10 a.m. PST on Aug. 27. Once you set up the download, the game is yours to keep.
This is all being done in preparation for the game's next major expansion, Marching Fire, which aims to extend For Honor's replayability with a new set of characters to learn, and new modes to master.
Perhaps the most intriguing part of this week's announcement (outside of the game being free for a limited time on Steam, of course) was a new mode called Arcade. This new mode is designed for one or two players, and it allows the team to take on increasingly difficult waves of enemies, while simultaneously trying to complete different objectives. The help keep things interesting, new modifiers will also keep impacting the gameplay. Ubisoft said this new mode should help add infinite replays to the game, as the variety of enemies, modifiers and objectives will mean you never experience the same run twice.
As an added bonus, this mode will allow players to learn their various characters and level them up before heading into the online fray, as all progress in Arcade mode carries over into the PvP competition. That's a rather smart idea, as many folks are hesitant to jump into a game like For Honor out of fear of being the "one noob on the battlefield." A mode that lets you train and improve your characters at the same time seems like a perfect addition to the game's offerings. The one catch is that Arcade will be part of the Marching Fire expansion, though folks who have the expansion can invite friends who don't have the expansion to join their cooperative Arcade battles.
As for the expansion itself, it'll set you back $29.99. It includes all four of the new heroes from the Wu Lin faction, as well as Arcade mode and some other in-game goodies. Of course, after a set period of time, all players will still be able to unlock the Wu Lin characters using in-game currency, rather than actual cash. The expansion will also introduce a new Breach game mode and graphical enhancements for For Honor, but those aspects of the update will be free for all.
Your Daily Blend of Entertainment News
Staff Writer for CinemaBlend.