Battlefield V Details New Battle Royale Mode In New Video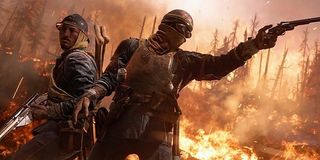 While it won't be ready to deploy alongside the launch of Battlefield V, DICE has revealed details for its impending battle royale mode in a new trailer. If you like big maps and big action with your squad, it looks like the new "Firestorm" mode aims to deliver. Oh, and some extra details about the campaign, multiplayer maps and a free post-launch service called "Tides of War" are also up for grabs.
Hot on the heels of the Labor Day holiday here in the States, DICE has launched a new trailer called "This is Battlefield V." As you can probably guess from the title, this lengthy clip takes viewers on a whirlwind tour of all things Battlefield V, including our first real details about the new Firestorm game mode, which is the series' take on battle royale. If you're looking for a more grounded firefight than what you typically find in games like Fortnite and PlayerUnknown's Battlegrounds, Firestorm might be just what the doctor ordered. I mean, Battlefield's multiplayer offerings have always been about big battles on large maps, so the series seems like the ideal place to offer a fresh take on the super-hot game mode.
In Firestorm, 16 teams of four players will compete in the largest Battlefield map to date in an effort to be the last squad standing. You can expect all of the vehicles and destructible environments that are commonplace in the series, while a massive blaze closes in on the players and pushes them closer and closer together.
Earlier in the trailer are details about the other multiplayer game modes, of which there will be eight. Set during World War II, Battlefield V will boast everything from Domination and Team Deathmatch to Conquest and Breakthrough.
Over to the single player campaign, and Battlefield V promises eight "unexplored settings" from the series spread across the theatres of World War II. Since that particular war has been pretty well covered over the years of first-person shooters, it's nice to hear that the stories being told this time around won't be the usual batch, including the landing at Normandy, Battle of the Bulge, etc. Those battles are iconic for good reason, but we're looking forward to see what fresh tales DICE aims to tell this time around.
Halfway through the video, all sorts of details are provided concerning the refinement of mechanics and modes in Battlefield V. A bigger emphasis is being put on squad tactics, while player mobility and gunplay has received some impressive advancements, too. Also getting a big boost are destructible environments and more dynamic fortification abilities, allowing players to create strategic advantages on the fly.
Finally, there's Tides of War, which includes free updates for all players. "No more premium pass," the trailer promises, while explaining that post-launch content such as maps, modes and themed events will now be available to all comers.
All of that kicks off when Battlefield V arrives on its freshly-shifted launch date of Nov. 20, though the beta is still expected to drop later this month.
Staff Writer for CinemaBlend.