Leisure Suit Larry Is Back In Wet Dreams Don't Die Trailer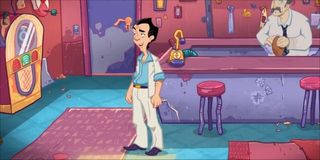 Assemble Entertainment decided to reach deep in the stash of some of the forgotten Sierra Interactive classics, and revive an IP that didn't seem like the sort of property that would fit with today's standards of media entertainment. But that didn't stop the company from moving forward with a brand new Leisure Suit Larry game. Yes, that's right. He was once popular in the late 1980s and early 1990s as the video game equivalent to the sex-comedy romp that has practically faded away. The newest game in the long-running Leisure Suit Larry series is Wet Dreams Don't Die, and it features an all new art-style, and an all new voice actor for the brand new point-and-click adventure game.
The minute long trailer covers a little bit of the gameplay, as well as the general content that you can expect to encounter in the title. The trailer starts with Larry fumbling around in the dark, and eventually announcing that he's made it into the 21st century with an all new look, and a big smile. We then see Larry attempting to hit on various females across a variety of different locations, including a seedy bar, a high-tech peripheral shop, and an even seedier apartment. The trailer rounds out by announcing that the game will launch on PC and Mac starting November 7th.
Visually the game mixes in hand-drawn backdrops with the typical disjointed, uneasy, and seedy designs that many point-and-click games back in the 1990s were known for-- just updated to take advantage of the UHD resolutions of today's technology. Larry has also undergone a rather significant visual change from how he appeared in the original 1980s series, being a lot taller and slimmer. He's also no longer voiced by the original Jan Rabson or Jeffrey Tambor.
The game also attempts to retain the hand-drawn style of the original titles, up until Leisure Suit Larry: Magna Cum Laude in 2004, which attempted to court an even more mature audience with the AO-rated outing on PC while having a slightly more manageable rating on the OG Xbox and PS2. The 3D game didn't fair all that well, but did manage to do well enough to spark one more 3D outing in the form of Leisure Suit Larry: Box Office Bust in 2009, which brought the rating back down to 'M' for Mature, and also managed to release on the Xbox 360, PC, and PS3.
Way back in 2013 there was another attempt to bring back the original game in a remake under the title of Leisure Suit Larry: Reloaded, but it still kind of floundered about, as it had a tough time finding an audience.
The hook for the newest point-and-click game is that Larry is now transported into the 21st century, where he has to navigate through the high-tech era of social media and dating apps like Timber.
You'll have to try to use your wiles to woo Faith, an assistant to the boss who runs the tech company Prune. Along the way you'll need to solve puzzles, gather clues, and try not to get into too much trouble. The game boasts 30 hand drawn characters, and a non-linear gameplay format.
You can look for Leisure Suit Larry: Wet Dreams Don't Dry to launch on November 7th this fall. Pre-orders are currently available over on the Steam store page.
Your Daily Blend of Entertainment News
Staff Writer at CinemaBlend.