Watch The Fallout 76 Opening Cinematic Now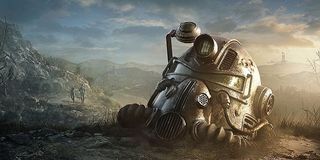 The Fallout 76 vault is set to open on Nov. 14 but, before reclamation day gets here, Bethesda has decided to reveal the game's three-minute intro movie, as well as beta details. This next trek into the wastelands is going to be a wild one, but at least nobody will have to go it alone.
Despite arguments to the contrary from Metal Gear's Solid Snake, the Fallout 76 introductory movie begins with a statement that "war never changes." We get a few brief glimpses of Vault 76 and a television broadcast of the speech before fading to ghostly images of tanks, power armor and the like. The speech takes an uplifting turn next, touting Vault 76 as a true marvel that will pave the way to the future. Also, I'm fairly certain that's the voice of series mainstay, Ron Perlman. He offers some commentary on the importance of "rebuilding," which leads to a shot of the vault door opening and a promise that, thanks to the people of Vault 76, "our future begins."
People were a bit apprehensive when initial details for Fallout 76 started rolling out. We learned that not only will it be an open-world game, but it will also feature online multiplayer, no traditional campaign or NPCs. Thematically, though, this makes perfect sense. Vault 76 was the first to open, so a new "world" has not been established yet. Instead, it's a bunch of people who have been trained on how to live in a post-apocalyptic setting, but training will only go so far. What would really happen when those vault doors swing open? That's exactly what Fallout 76 aims to discover. Some will try to survive on their own. Others will team up with friends and work as a team. Still others will be absolute jerks, killing and pillaging from other players in order to survive.
Bethesda ends the trailer with a reminder that not only is the B.E.T.A. on the way, but you'll be able to play it first on the Xbox One. As noted in a recent announcement, the Break It Early Test Application will hit Microsoft's console on Oct. 23, with PlayStation 4 and PC to follow on Oct. 30. This is likely more of a stress test scenario rather than a chance for Bethesda to make some changes based on B.E.T.A. feedback, as the game launches just a couple weeks later for all platforms, on Nov. 14.
If you're looking to join the testing phase, you can find all sorts of info on what to expect from the B.E.T.A., how to submit feedback and the like over on the official FAQ. Bethesda will also use social media to keep everyone up to date on when they can actually play the B.E.T.A., as servers won't be up 24/7.
With any luck, hopefully this dry run will have been a successful and smooth operation once Reclamation Day finally arrives in November.
Your Daily Blend of Entertainment News
Staff Writer for CinemaBlend.