Destiny 2's Shattered Throne Dungeon Won't Be Permanent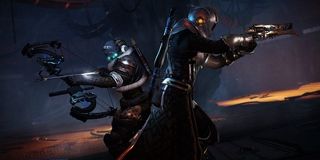 If you haven't taken on the Shattered Throne dungeon in Destiny 2 yet, your time is running out. Bungie announced, heading into the weekend, that the in-game event won't be a permanent fixture. That's the bad news. The good news is that the event will return every three weeks, meaning you'll have some time to level up your character and prepare for its return in late October.
Over on the Bungie blog, the team revealed that the Shattered Throne event which popped up this past Tuesday in the Dreaming City will only be available for players to tackle over the course of the next few days. Without getting into too much Destiny 2 lore, beating the game's new Raid released a curse that is growing in power. Bungie has stated that, as part of their year two plan to keep players coming back for more, unique events will pop up from time to time.
This week, players discovered a Shattered Throne event that mixes elements of your average Strike and even a bit of Raid-like puzzle solving and insane boss battles. The Dreaming City is a lot like The Dreadnaught from the original Destiny, full of secrets and activities for players to discover. This event is one such activity, but it won't be available forever.
The blog post explains that players have until the next reset to complete the quest before it disappears for three weeks. We're not sure if it will return the same next time, or if certain aspects will be altered. Given how fluid many of the Forsaken components have been, we wouldn't be surprised to see some new wrinkles thrown in once the Throne returns.
Since this is a post-game activity that was only triggered following the launch and completion of the Raid, more casual players might want to use the next three weeks to advance their favorite Guardian. The Light level recommended for the last leg of the event is just under the game's current maximum, so you probably don't want to give it a go until you're at least very close to topping out.
The blog post goes on to talk about all of the usual weekly updates, including the upcoming Iron Banner, tweaks to the in-game economy and more. Also worth noting was this week's release of a new game mode and multiplayer maps in the Crucible. Players can now play the new Breakthrough mode which, in a rather uncharacteristic turn, has been designed to "train you in the art of bank robbery." I haven't had a chance to play the mode yet, but it basically sounds like a two-point control mission. Teams will push forward to deploy a "Breaker" before getting to move to their opponent's Vault for a quick hack and grab. Also up for exploring are a collection of new maps including Firebase Echo, The Citadel and Equinox. It looks like you can expect to earn some new loot, too.
Your Daily Blend of Entertainment News
Staff Writer for CinemaBlend.