Fortnite Will Let Creators Earn Real Money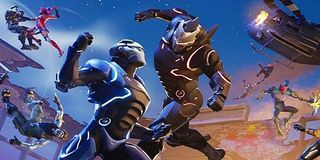 To celebrate Fortnite's first year of dominating the game's market, Epic has decided to launch a limited event that will allow content creators tied to the game to earn actual cash from their supporters. The festivities will run through the end of 2018, allowing creators to earn real-world money for any V-bucks spent by their supporters within Fortnite during that timeframe.
This is certainly an interesting promotion, and not wholly unlike what Twitch does on a constant basis, allowing Prime members to pick a streamer to receive $1 a month as compensation for their work. According to Epic, this new promotion is seen as a way to thank all of the people who have helped Fortnite rise to success by rewarding their efforts through the holiday season. It looks like every 10,000 V-bucks spent in this manner will result in about $5 for a creator.
For starters, if you're an "Epic Creator," you'll want to drop by the official page for Fortnite's Support-A-Creator Event. You'll need to apply to be considered an eligible creator and, once approved, other players will be able to input your user name into a special field in the in-game store to link you to their account. So, for every V-buck they spend within the game during the next couple of months, you'll be able to earn some actual cash. There are, of course, limitations, guidelines and a whole mess of other details to consider first.
For starters, to be considered an eligible creator, you need to have created Fortnite content within the past month. Their definition of creator is pretty broad so, if you're behind something that's dedicated to the super-popular battle royale game, you might want to try applying. Examples of creators include streamers, artists, cosplayers, musicians and even folks who run dedicated Fortnite communities. On top of that, you need at least 1,000 followers on a major social media platform like Twitch or Twitter, and you have to have a means to actually receive payment from Epic.
Otherwise, the only thing you need to worry about is following the event's code of conduct. This ranges from expected considerations like respecting other players and using the official terms for weapons, points of interest and other elements of the game, as well as avoiding hate speech, threats, or being "overly commercial or spammy." If you've already been popped for bad behavior, it's unlikely you'll be accepted.
I figure Epic will be keeping a broad eye on members of this promotion throughout its duration rather than trying to weed through a year's worth of content to make sure you never threw a tantrum while streaming. According to the guidelines, creators will only get one warning when it comes to unacceptable behavior.
So if you follow someone who is gaga for Fortnite, keep an eye out for an announcement that they'll be joining this holiday promotion. If they do, remember to add their name in your in-game store to ensure they receive some love from Epic through the holidays. Apparently each entry only lasts 14 days so, once the time expires, feel free to re-add them or switch over to a new creator.
Staff Writer for CinemaBlend.
Your Daily Blend of Entertainment News
Thank you for signing up to CinemaBlend. You will receive a verification email shortly.
There was a problem. Please refresh the page and try again.