The Sims Is The Newest Game To Enter Augmented Reality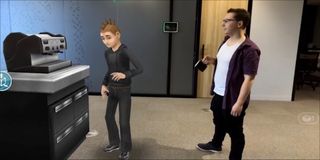 Electronic Arts has been awfully quiet when it comes to The Sims in recent times, other than releasing some expansion packs here and there. Well, it turns out that the next big entry in the series is an augmented reality update for a game that can be played through mobile devices.
The news comes courtesy of an announcement trailer that was posted on the Firemonkeys YouTube page. The trailer is pretty short, but it showcases the game being played on a smartphone where a house is stationed on a real life seat. It's very similar to other AR games like Pokemon Go, only instead of seeing Pokemon on the ground, you're looking at Sims and their homes positioned on real life furniture. We see that you can actually build houses and extensions in the game that appear as if they appear in the real world, and there are even moments where you can see your characters dancing and going about their day as if they were actually real.
Firemonkeys is handling the development instead of Maxis Studios, which might shock a few gamers. That's a slight change of pace from what you might have been expecting, but, typically, when mobile games are made they are often handed over to secondary studios. In this case, the game was given to Firemonkeys, which is known for making Real Racing and Need For Speed: No Limits. The studio is also no stranger to The Sims, as Firemonkeys was responsible for making the The Sims Freeplay in the first place, which originally launched way back in 2011. The latest update adds the augmented option to the game.
Now, there are a few cool moments from the trailer that seem like it could really help make the game stand out. For instance, we see that it appears as if the pets can be interacted with in real-time thanks to the ARKit 2 technology. What's more is that the game also features cooperative play for multiple players. So, once you build your house and customize your characters, you can then take them outside of your own game and share the content with other players.
I'm not entirely sure how well the co-op mode works in AR, but there are thousands of items that come from The Sims franchise to mess with and customize your characters.
You'll be able to make use of the augmented reality tech for only certain devices, specifically the iPhone 6S or later, the iPad Pro, and 2017 iPad or later. There's no mention of support for Android devices.
Usually videos like this have announcement dates attached to them, but in this particular case the game is actually already available, along with the augmented reality update. You can grab The Sims FreePlay from the iTunes App Store with the AR update right now.
Staff Writer at CinemaBlend.
Your Daily Blend of Entertainment News
Thank you for signing up to CinemaBlend. You will receive a verification email shortly.
There was a problem. Please refresh the page and try again.