Kingdom Hearts 3 Is Actually Finished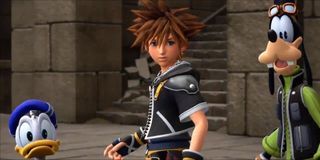 Square Enix had a release date set in stone for Kingdom Hearts 3 next year, and, by golly, it looks like the company is going to be sticking with that date no matter. One surefire way to know for sure that Kingdom Hearts 3 will actually release on January 25, 2019 for PS4 and Xbox One, is that Tetsuya Nomura confirmed that the game is actually finished.
The official Kingdom Hearts Twitter account tweeted out a message on behalf of Nomura, stating that Kingdom Hearts 3 has finished development. He didn't say if the game had gone gold, but typically when development is wrapped up, it means that the game has gone gold and this means that all core development is finished and the gold master disc is being sent off to the printers in preparation for distribution for a retail release.
The tweet confirms that now that the game is complete and you can look to get your hands on it in early 2019. Nomura also pointed out that you would be able to catch up on the story by playing the bundle packs that will feature all the previous games in one package. You can actually get your hands on Kingdom Hearts The Story So Far for home consoles, which features nine different Kingdom Hearts games all compiled into one $39.99 SKU.
The tweet also features an extended version of the trailer that was released a short while ago featuring some of the worlds players will be visiting throughout the Disney universe, as well as some of the villains that they will be encountering as well.
Over the last several months Square has been revealing some of the special moments that makeup the game's core content, including Big Hero 6 and the world of Tangled. Earlier in the year during the E3 festivities, Square Enix also unveiled other worlds for players to encounter, including a trip down memory lane with Toy Story.
After years of waiting for the game to release, Kingdom Hearts 3 is finally moving down the final stretch toward the finish line. Some gamers were initially worried that it was going to be stuck in development hell like Final Fantasy XV, or get perpetually delayed like Duke Nukem Forever. But it appears Square has a handle on it and will ensure that the game finally gets up and out by 2019.
I suppose some gamers might feel as if a large portion of the game has been spoiled due to all the trailers, announcements and reveals, but the best course of action would probably be to go on a media blackout if you don't want anything else ruined for you. Otherwise, you can stay on the hype train all the way up until January 25, 2019, when Kingdom Hearts 3 releases for the Xbox One and the PlayStation 4 after waiting half a decade for the game to release following its initial debut at E3 way back in 2013.
Staff Writer at CinemaBlend.