Assassin's Creed: Odyssey's Legacy Of The First Blade Trailer Has Actual Assassins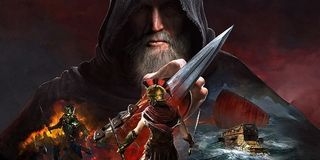 The first major piece of DLC for Assassin's Creed: Odyssey drops next week and, while the main game's protagonists were a bit of a departure for the series, this new adventure will introduce hooded assassins.
If you played Assassin's Creed: Odyssey, you'll know that the game strays from the series' usual path in several regards. For instance, the protagonists are former soldiers and don traditional Greek armor throughout the game rather than the typical look seen by series leads. For those of you who have been missing the hoods and hidden blades, though, the game's upcoming DLC should provide your fix.
Part of the Odyssey season pass, this upcoming DLC will begin what is being called the "Legacy of the First Blade" story arc. The first chapter is called "Hunted," and it'll launch on Dec. 4. That's next Tuesday, in case you don't have a calendar handy.
According to Ubisoft, the upcoming DLC will be all about the steadily growing brotherhood of assassins, starring Darius. If you're not too up to speed on your series lore, that's the guy who first wore a hidden blade, which explains the story arc's title. The new DLC will focus heavily on the backstory of the Assassins, including details on how they operate. In the trailer, Darius makes a comment about why it's best to operate in the shadows, which is something the Assassins have been known for through most of the series' entries.
If I had to make a guess, I'm anticipating something of a Spider-Man angle, as Peter Parker has been known to talk about the fact that he wears a costume not to protect himself, but those he loves. If the bad guys know who is acting against them, it makes sense they would go after their friends, families, hometown, etc. Thus, hoods and shadows.
The promotional material is teasing that players will be tasked with learning if Darius is an enemy or an ally and, unless there's some sort of major plat twist planned, that doesn't seem like too big of a mystery. While working through the new story, you can expect to meet new characters, take part in some fresh naval combat scenarios, tackle new power-hungry enemies and learn more about the world of Assassin's Creed. You'll also get a bunch of new gear to take for a spin and some new abilities to master.
With Hunted launching next week, players can expect the next two chapters to arrive sometime in early 2019. The second chapter is called Shadow Heritage, while the third is titled Bloodline. Ubisoft plans to keep Odyssey alive and well for quite some time, though, so you should probably expect more content to be revealed around the time the Legacy of the First Blade story wraps up.
Staff Writer for CinemaBlend.
Your Daily Blend of Entertainment News
Thank you for signing up to CinemaBlend. You will receive a verification email shortly.
There was a problem. Please refresh the page and try again.