The Elder Scrolls: Blades Has Been Pushed Back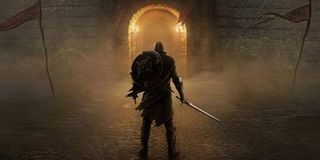 According to a recent announcement, Bethesda's upcoming mobile game The Elder Scrolls: Blades has been pushed back to a new launch window of sometime early next year. That's not too bad, as far as delays go, but it means those of you who were hoping to go adventuring on your phone through the holidays will have to wait just a little bit longer.
The above tweet went live on the official Twitter feed for The Elder Scrolls just as November was coming to a close. It notes that Blades has been pushed to "early 2019 for iOS and Android," though additional details are nonexistent. You can still sign up to take part in Early Access play, though, so that might be worth doing if you want to be one of the first people to take the new Elder Scrolls game for a spin.
Bethesda has been pretty low-key about Blades this year, only showing the game off at two events. It was announced at E3 2018 during the Bethesda address, though it was understandably overshadowed by mainline games from series such as DOOM and Wolfenstein. There's also the fact that The Elder Scrolls VI was officially teased, alongside a space-based RPG, Starfield. Those last two games are almost certainly years away at this point, but the fact they exist managed to stir up quite a bit of excitement.
Other than that, the only time we've gotten a major update about Blades was during the Apple 2018 keynote this past fall. Todd Howard showed off the game running on the iPhone XS, but that was about it.
When it comes to gameplay, Bethesda is touting the same kind of first-person action fans have grown used to over the years. While there isn't an open world in the initial build, the team isn't ruling out the possibility.
For now, though, it sounds like the new Elder Scrolls game will be all about dungeon diving. There are base building elements, too, so it sounds like the general loop will involve going into a dungeon to bash baddies and collect loot, use that loot to improve your character and build up your own base, which will likely give you additional perks to take advantage of while diving back into dungeons. That kind of formula typically works well with the mobile platform and, hey, it's an Elder Scrolls game, so that's pretty exciting in its own right.
To draw a quick parallel to another recent development, it's kind of a bummer Blizzard didn't take a page from Bethesda's book when announcing its own upcoming mobile game, Diablo Immortal. Nobody is upset with Blades because its announcement came paired with the reveal that, yes, a new mainline Elder Scrolls game is also in development. I can't help but wonder if Blizzard had ended its own mobile reveal with a tease for the next mainline Diablo, if maybe they would have avoided all the ill will Immortal has received in recent weeks.
Staff Writer for CinemaBlend.
Your Daily Blend of Entertainment News
Thank you for signing up to CinemaBlend. You will receive a verification email shortly.
There was a problem. Please refresh the page and try again.