Two Classic Hitman Games Have Been Remastered In 4K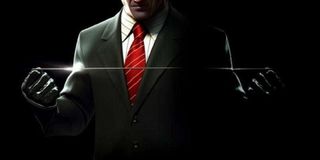 If Hitman 2 has you itching for more sneaking and silent assassinations, then you'll be happy to know that two of Agent 47's more recent globetrotting adventures have been given the HD remaster treatment. According to an announcement from Warner Bros. Interactive Entertainment and IO Interactive, players will soon be able to revisit Hitman: Blood Money and Hitman: Absolution as part of the Hitman HD Enhanced Collection.
Much like Agent 47 himself, this latest HD collection announcement snuck up on us and caught us totally by surprise. It's apparently something IO Interactive has been working on quietly in the background for a while now, as the Hitman HD Enhanced Collection is getting a digital launch next Friday, Jan. 11, for $59.99. Whether you're gaming on the PlayStation 4, Xbox One or either of their enhanced counterparts, it sounds like this blast from the past will deliver some familiar Hitman narratives with a host of current-gen enhancements.
This Hitman collection features 4K visuals and 60 frames per second, along with increased texture resolution and upgraded texture formats. Need some more high-tech finagling? Then get ready for super-sampling, upscale support, heightened shadow mapping and mirror resolutions, as well as improved lighting. And while both of these Hitman games played well back when they first launched, the controls have also received an update to make things as smooth as possible.
According to IO CEO Hakan Abrak, the team was excited to work on this HD collection because both games helped provide a foundation for the more recent series entries.
In Blood Money, players will go toe-to-toe with The Franchise, a group of assassins Agent 47 needs to put a stop to. This quest will take him to Chile, a Paris Opera House and over to the good ol' U.S. of A to sneak through The White House. Hitman: Absolution put a stronger focus on creating an engrossing narrative, boasting an all-star cast of characters and taking players on a trip through a whopping 20 missions.
If you're still in the market for contracts after all of that, consider this a reminder that the recently released Hitman 2 is a fantastic game. Its missions are fun, the locations are great, there are hundreds of challenges to tackle and all kinds of live events giving players plenty of reasons to come back for more. You can also get Hitman as an add-on, making for a pretty impressive package. Combine that with these new HD remasters and Agent 47 is going to be one very busy assassin.
Your Daily Blend of Entertainment News
Staff Writer for CinemaBlend.