Alien: Blackout Brings The Xenomorph To Mobile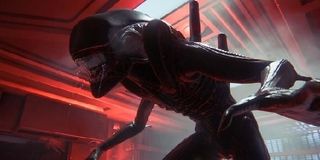 After a bit of playful teasing last week, FoxNext Games, D3 Go! And Rival Games have officially announced Alien: Blackout, an upcoming mobile game set in the popular sci-fi universe. While this may not be the full-on console sequel to Alien: Isolation fans were hoping for, it certainly sounds like an ambitious mobile game that aims to capture the tension of being hunted by a xenomorph.
Word went out early this week that the next Alien game will be coming to mobile devices later this month. Slated to launch on the App Store and Google Play in January, Alien: Blackout will also arrive on the Amazon Appstore later this year.
In Blackout, players take on the role of Amanda Ripley, daughter of Ellen Ripley from the Alien films. She was also the protagonist in Alien: Isolation so, just like her mom, it looks like Amanda has some terrible luck when it comes to crossing paths with murderous alien lifeforms. For you lore hounds in the audience, this latest tale takes place between the films Alien and Aliens.
As Amanda Ripley, players will find themselves trapped aboard the Weyland-Yutani space station, which is experiencing something of a bug problem. Of course, these cockroaches are nine feet tall with razor-sharp tails, claws and even a damn tongue made for straight-up killing folks.
Rather than constantly going toe-to-toe with the xenomorph herself, though, Amanda is using the station's various systems to guide her crew to safety. Of course, the unpredictability of said crew members and the creature that's stalking them will throw some extra wrinkles into the formula.
The game's controls will have you balancing the station's various systems while using the security features to guide your team away from harm. Since we are in a post-Telltale world, you can fully expect tough decisions to pop up that will have an impact on who lives and dies, as well as the game's ultimate outcome. A very brief teaser for the game has also gone live.
A couple of extra announcements were thrown into the mix at the end of the press release, including the fact that this is only the first of multiple projects set to continue the story of Amanda Ripley. Alien fans will be able to read, play and watch more adventures being created through multiple partnerships, though specifics of those projects have not yet been revealed. It sounds like we can expect a book or comic series, though, and maybe an animated movie or something along those lines. This is starting to sound a lot like what was done with the Dead Space universe, which used everything from prequel novels and comics to a couple of anime movies to keep telling its story.
Oh, and FoxNext Games' Cold Iron Studios is also working on an MMO shooter set in the Alien universe slated for PC, so there's something else to look forward to.
Staff Writer for CinemaBlend.
Your Daily Blend of Entertainment News
Thank you for signing up to CinemaBlend. You will receive a verification email shortly.
There was a problem. Please refresh the page and try again.