Super Smash Bros. Ultimate Characters From God Of War's Art Director Look Amazing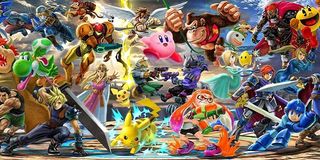 When he's not too busy drawing Kratos and "Boy," it looks like God of War Art Director Raf Grassetti has enjoys creating new looks for the cast of Super Smash Bros. Ultimate.
Raf Grassetti's Instagram page is packed with images of his work from God of War but, like any artist, he clearly also likes to put his own spin on characters from all across pop culture. You can find images of everything from Thanos to Venom, or Predator to Miles Morales. His latest collection, though, boasts a bunch of characters from the Smash Bros. universe, which have a decidedly different tone and aesthetic when viewed through Grassetti's lens. He portrays characters like Fox McCloud with more humanistic proportions, and even gives Samus' armor a more realistic design. As for Bowser, well, he's still a hulking brute that would probably feel right at home battling Kratos in the latest God of War.
Since Nintendo is super family friendly, it's no wonder Bowser is typically portrayed as a lovable turtle dragon, even though he's supposed to be the big bad of the Mushroom Kingdom. Grassetti decided to give the tyrant a much more menacing look, one that would probably make more Smash Bros. pick him as a main due to how intimidating he has become. Also, you've just got to love that red mohawk.
So, who do you think would win in a fight: Grassetti's Bowser or his rendition of Link?
The hero of Hyrule has taken on a more realistic look in recent Legend of Zelda games, but nothing Nintendo has done to date looks as edgy as what Grassetti has imagined for us here. Link is still a dreamy elf, but he's got a fierce look about him that makes him look like he's absolutely ready to brawl in a game like Smash Bros. What's worth noting is that Grassetti refers to these Smash images as "quick ones" in the description, making us even more jealous of his amazing talent.
Now, for those who have gotta' go fast.
What's fun about Grassetti's take on Sonic from Smash is that we half expect this image to start popping up in random rumor posts for the upcoming Sonic film that is also giving the blue blur a more realistic look. While the film version of Sonic still hasn't been fully revealed, the silhouette of the character in the first movie poster sure looks a heck of a lot like what is shown above. Now we just have to wait until the big reveal finally takes place and see how Grassetti's look stacks up to the film.
Your Daily Blend of Entertainment News
Staff Writer for CinemaBlend.