Bungie And Activision Are Splitting Up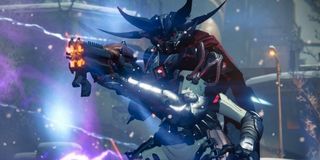 (Image credit: Bungie)
The news has begun spreading all across social media and within gaming circles that Bungie is splitting up from Activision. Only Bungie made the announcement public, but it's quite clear that it was a joint decision given that there's a very important part of the split-up that really made this newsworthy and it has to deal with Destiny 2.
Kotaku is reporting that both companies are splitting up and that means Activision is losing a serious intellectual property. Yes, it has been confirmed that Bungie will be taking the Destiny intellectual property with them during the split.
This means that in addition to having other big-name franchises like Skylanders shuttered, and having other former popular titles like the Tony Hawk Pro Skater IP on ice, Activision is seeing a rapid dwindling of high-profile titles under its umbrella.
Bungie, meanwhile, will be taking Destiny into different pastures, while also pursuing a new $100 million deal with NetEase, according to the Kotaku piece.
The developers noted in a blog post that the finalization of transferring the IP of Destiny from Activision to Bungie is underway right now, noting...
Kotaku also notes that both Vicarious Visions and High Moon Studios, the latter of which previously worked on the Transformers: War for Cybertron and Transformers: Fall of Cybertron games, are now out of a defined role in Activision given that they were both assigned to making content for Destiny 2.
Activision will likely reassign the two studios as it attempts to gauze the financial hemorrhaging that has been taking place across its divisions since around mid-2018. The studios will likely finish out whatever content they were working on for Destiny 2 before the rights are fully handed back over to Bungie, given that the blog post states that the current developmental roadmap will be honored and all of the content that the studios had planned to release for the game will be fulfilled.
This all comes amidst a turbulent relationship between Bungie and Activision over the last two years, dating back to late 2017, where a lot of tumult had been building over certain design decisions and monetary methods employed by Bungie for Destiny 2.
For instance, there was a huge hoopla over the XP scaling scandal that was exposed, which resulted in a lot of angry gamers bailing on the title, along with complaints over the Glimmer caps, and the cash shop loot boxes being filled with items that were supposed to be given out during rare events.
All of this culminated in a pretty significant drop in the Destiny 2 community, and in turn, the financial revenue it generated. Originally, Activision wanted to monetize the game even more to compensate for falling revenue, but it appears Bungie decided to call it quits on the partnership and Activision obliged.
Staff Writer at CinemaBlend.
Your Daily Blend of Entertainment News
Thank you for signing up to CinemaBlend. You will receive a verification email shortly.
There was a problem. Please refresh the page and try again.