Red Dead Redemption 2 Is Being Sued By The Pinkertons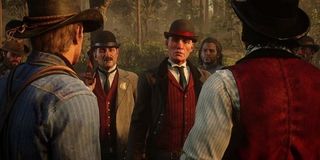 It looks like the use of Pinkerton agents in Red Dead Redemption II might have landed Rockstar Games and Take-Two in some hot water with the actual Pinkerton agency.
You might be surprised to learn that Pinkerton Consulting and Investigations is still very much a thing, and as it turns out, it doesn't take too kindly to Rockstar Games including the organization in the 2018 mega-hit, Red Dead Redemption II. As a matter of fact, it's suing Rockstart and Take-Two over the matter, claiming it is due royalties for the transgression.
In the claim from PCI, Rockstar included the Pinkertons without authorization. Take-Two Interactive, though, has offered its own claim requesting for "declaratory judgement" against PCI's trademark complaint.
Take-Two's claim notes that Red Dead Redemption II is a "historically accurate videogame set in the Wild West in the late 1800s." The claim notes that many historical references to actual organizations are present in the game and, yes, that includes the Pinkerton National Detective Agency. According to Take-Two and Rockstar's legal representation, the issue here is one of fair use.
The next bit of text humorously reads like the back of the game box, painting Red Dead II as a "gripping Wild West adventure" boasting a gang of outlaws being pursued across miles of western landscape by groups such as the Pinkertons.
Further into the document, it notes that Pinkerton agents have been a part of numerous works of fiction due to their historical relevance, and that their use in Red Dead II is "neither excessive nor exceptional." Specifically, the claim notes that, spread across around 60 hours of gameplay and 106 missions, the Pinkerton agents only appear in 10 of those missions.
This whole shebang got rolling back on Dec. 13 of 2018, when Take-Two and Rockstar received a cease and desist from the Pinkerton group. The C&D claimed that the game was creating confusions with the Pinkerton's mark, as well as their detective badge. That same paragraph notes that the defendants demanded royalty payments for every copy of Red Dead 2 that had been sold or will be sold, "apparently hoping to profit from the recent success" of the game.
Legal matters like this can be tricky, but given how much buzz revolved around the early sales success of Red Dead Redemption II, it's easy to understand why the plaintiff's would make such a claim. The question is whether or not a judge will agree and, in the end, which side their ruling will favor.
This isn't too far off the mark from another series of legal battles taking place in the world of gaming right now, as numerous individuals are attempting to sue Epic Games for inclusion of dances they claim to own being included in the extremely popular battle royale game, Fortnite.
Your Daily Blend of Entertainment News
Staff Writer for CinemaBlend.