Fallout 76 Patch Has More Than 150 Fixes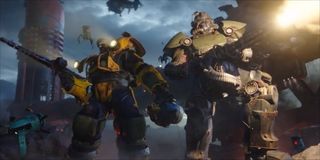 (Image credit: Bethesda)
Some games get minor cosmetic fixes here and there when they get updated: an FPS hiccup removed, an optimization applied, a graphical bug squashed, etc. However, some games need a near complete overhaul to get into tip top shape and fix all of the long-running issues plaguing the gameplay. Apparently Fallout 76 falls into the latter camp, as the latest patch addressed more than 150 different issues that were reported by the community.
GameRant is reporting that the latest patch for Fallout 76 has officially dropped for PC players, and it addresses more than 150 different issues in the game, from the perks to crafting to weapons to item acquisition, and tons of other issues. The Xbox One and PS4 version of patch 1.0.4.13 will be available at some point next week.
Obviously it's not possible to go through every single change, but the most important changes come in the form of performance and stability, where Bethesda notes that various client and server-side changes have been made to improve the overall stability of the game and increase the performance of the game across a number of end-user systems. This includes frame-rate drops on the Xbox One specifically being reduced when the mainframe core stations get blown up, and the game no longer crashing on any of the platforms when opening up the Pip-Boy. Performance has also been increased for when nukes are launched. Oh, and the infinite loading bug that plagued PC gamers has been removed.
Some minor changes have been made to the social aspects when forming teams, along with PvP flags being turned on if you open a locked container that belongs to another player.
A couple of the animations and effects for the weapons were improved, along with a ton of changes, updates and balancing acts applied to Fallout 76's crafting, workshop and C.A.M.P.S.
Some of the geometrical glitches associated with the workshops have been fixed, so you no longer have to wall-glitch to reach them when they spawn underground. There's no mention if the dev room access was blocked off, though, but they did fix a bug where players could move through the geometry after using fast travel.
Some of the daily, weekly and sub-challenges have all been fixed as well, many of which prevented players from completing the challenges. So for those of you out there who are achievement or trophy hunters, this should no longer be an issue for you.
A few of the enemies in Fallout 76 have also received a little tender, love, and care, specifically with some of their weapons being invisible or robots spawning too frequently in Whitesprings.
The developers also finally added the ability to block someone in-game, which also mutes their proximity chat. This was asked for since the incident occurred where the group the Gay Eliminators were going around terrorizing certain players, which resulted in them being permanently banned from the game, along with plenty of other players for one reason or another.
A couple of PvP bugs were addressed, along with some of the main quests and events having certain bugs fixed, which prevented players from completing them. And a whole bunch of weapon glitches and item bugs have also been fixed. So maybe people who gave up on Fallout 76 during the launch will consider returning to give Bethesda's semi-MMO a try once more? The patch is available on PC and will drop next week for Xbox One and PS4, featuring much of the exact same changes that were mentioned in the changelog.
Your Daily Blend of Entertainment News
Staff Writer at CinemaBlend.