Rocket League Cross Platform Play Is Now Available On PS4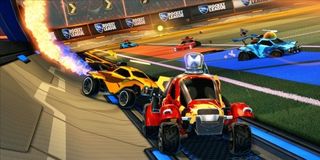 Psyonix has been working around the clock to finally bring gamers the cross-platform compatibility that they've been craving for some time from Rocket League. The other game consoles and PC support it, but the PS4 was the only one on the block that prohibited cross-play... until now.
In a tweet posted up on January 14th, 2019, the official Rocket League Twitter account finally announced the one thing that PS4 console gamers have been asking for since the Fortnite cross-play blow-up from 2017: cross-platform compatibility.
It's not live for all players across all of the available platforms. What this means is that if you're playing Rocket League on the PlayStation 4, you can now play with those who have the game on the Nintendo Switch. Alternatively, you can now play matches between Xbox One and PS4, so that there's a healthy ecosystem of competitive players pooled across the Switch, PS4, Xbox One and Steam.
You can partake in random matchmaking across a variety of match types, including casual, competitive and the extra modes.
You can access the cross-play functionality by heading into the gameplay options menu, clicking on "Options" and enabling the "Cross-Platform Play" box. Once you do that everything else will operate like clockwork.
Now keep in mind that Rocket League's cross-platform play on the PS4 is still in the beta phase. It's being tested and iterated right now, so certain features are not available just yet, such as cross-platform parties. Psyonix does have plans on implementing cross-platform parties later in the year, where you'll be able to invite people from different game systems into a single party.
This new update may not be perfect just yet, but it's been an update that's a long time in the making. It all started back several years ago when Rocket League began implementing cross-play for the other consoles, but strangely Sony was left out of the interoperability between consoles, even though it did support cross-play with PC.
Over the course of time, gamers began questioning Psyonix, who then deferred to the platform holders. Given that Microsoft and Nintendo seemed to be on board with cross-play, tensions began to arise between gamers and Sony. This escalated further when Mojang's cross-play between consoles was also blocked from Minecraft, even though it was allowed between the other systems. Epic Games wanted to do cross-play as well but was also blocked by Sony, which led to a huge backlash from the community, especially after they realized that they couldn't use their accounts that they were using for the PS4 version of Fortnite with their Nintendo Switch.
Eventually Sony walked back its restrictive platform policies and developers began implementing more cross-play functionality. Psyonix was one of the first to vocally advocate for the feature in eighth-gen consoles, and now it's finally arrived. There were definitely some hurdles and roadblocks in the way, but the team didn't let that stop them from finally giving gamers what they've been craving.
Your Daily Blend of Entertainment News
Staff Writer at CinemaBlend.