Far Cry: New Dawn Trailer Is Colorful And Explosive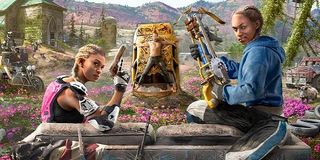 Ubisoft recently rolled out the "Story Trailer" for upcoming FPS Far Cry: New Dawn and, from the looks of things, the insanity meter is about to get cranked all the way up to 11.
Quick spoiler warning for folks who haven't played Far Cry 5 yet, and you can feel free to continue reading after skipping this single paragraph. For those of you who finished the campaign, you know that it ends with the nuclear destruction warned by the game's antagonistic cult coming to fruition. That was a pretty wild twist, so it's cool to see Ubisoft Montreal decide to play around with that unexpected turn of events in the form of New Dawn.
This latest trailer for New Dawn begins the same way the game got teased in the first place. Ubisoft hinted at a post-apocalyptic setting in a short reveal late last year, then gave us an even better look at the madness to come with a full-on reveal trailer during The Game Awards.
While that Game Awards trailer painted the world in broad strokes, this new Story Trailer gives us a better idea of what, exactly, is going on in this formerly peaceful Midwestern town. It's a pretty compelling intro, too, with a voiceover stating "I was six years old when I first saw the sun."
As we've already learned, New Dawn (opens in new tab) takes place years after a nuclear blast has ravaged the landscape. In fact, this game goes an extra step further than series like Fallout, moving the narrative to a point where the land has been largely reclaimed by beautiful vegetation and some rad-looking, mutated woodland critters.
We learn that, once folks crawled out of their various bomb shelters (Doomsday prepping FTW!), they formed a new and peaceful society. But this wouldn't be much of a video game if things remained all sunshine and rainbows, so, of course, a group of marauders led by some maniacal twins have decided to swoop in and take control.
Our protagonist is encouraged to visit New Eden to seek help, which is of course led by a religious fanatic with a familiar face. Honestly, it's kind of cool to see such a direct sequel to a Far Cry game that still manages to completely change the formula.
While the voiceover in the trailer is a young woman, scenes throughout the trailer make it look like the player will take on the role of multiple characters. That, or maybe we'll get to create our own survivor before diving in. Still not clear on that one. Either way, it looks like we'll be getting up to some over-the-top antics in a bright and colorful future gone mad.
As for the game itself, Far Cry: New Dawn is nearly upon us. It launches Feb. 15 for Xbox One, PlayStation 4 and PC.
Your Daily Blend of Entertainment News
Staff Writer for CinemaBlend.