3DTunes, Virtual Karaoke Bar Joins Utherverse Network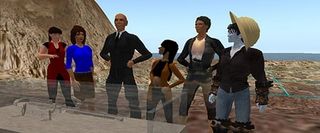 Ever considered getting up in front of a bunch of people and singing your heart out but was too afraid to do so? Well, Utherverse Digital has a solution for you and it's called 3DTunes, which is a virtual karaoke bar that's part of the virtual world web that allows people to sing popular songs in front of other members…virtually.
Brian Shuster, Utherverse founder and CEO commented in the press about the addition of 3DTunes.com, saying…
Anonymous users can supposedly request to sing at one of the many virtual bars, where hundreds or thousands of users can comment, interact and talk about the performance. For those who perform well the Utherverse members can share and promote the content with others , making the performance available to the tens of thousands of Utherverse worlds.
The whole thing kind of reminds me of Second Life, but if you're into the whole 3D social networking thing then it's probably worth checking out over at the Official Virtual World Web Website.
Staff Writer at CinemaBlend.
Your Daily Blend of Entertainment News
Thank you for signing up to CinemaBlend. You will receive a verification email shortly.
There was a problem. Please refresh the page and try again.