80's Cyberpunk Co-op Game Kill To Collect Announced For Steam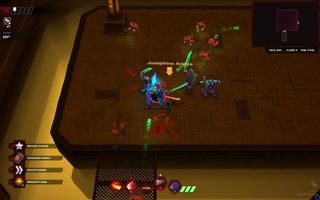 Today, developer Pieces Interactive announced the newest addition to their studio, an 80's cyberpunk game focused on online cooperative play titled Kill To Collect. The game will be releasing on Steam as soon as April.
Kill To Collect can hold up to four players as they battle it out against waves of enemies on several different maps. You can view the gameplay trailer below.
The general sense of reactions from the community seems to be positive.
If you ask me, the 80's soundtrack combined with the cooperative play against enemy waves sounds like a good time. I do wish this game would release onto consoles, because I feel like there just aren't enough local co-op games on consoles these days. Kill To Collect would probably be a ton of fun to play with your friends at a party, very much like TowerFall Ascension on the PS4. TowerFall was also released on Steam, so here's to hoping Kill To Collect might release on console sometime later.
Kill To Collect will be launching on Steam with a temporary discount of $14.99. The game will be releasing on April 6 with unlimited online co-op gameplay. If you'd like more information on the game, you can visit the Steam page.
Your Daily Blend of Entertainment News