APB: Reloaded Live-Action Trailer Features Punks, School-Girls And Nuns With Guns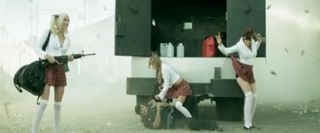 The "Be all you can't be" live-action trailer for APB: Reloaded featuring the song from Chaundon is a spot-on representation of how most gun battles end up in GamersFirst's free-to-play MMO. The trailer is exceptionally well paced and directed and definitely deserves a spot on the Coolest Game Trailers of 2011 list.
The trailer starts with a group of punks who transform, showing off an all school-girl gang in a nasty fire fight taking out an armored truck convoy. Later we get to see a group of cops engaged in an equally nasty firefight that ends with a rocket, and then we get a nun with a gun and the punk rock gang.
At first I wasn't sure what to make of the trailer but I really have to admit that they did a fan-darn-tastic job creating a real-life believable atmosphere that best represents the game. Speaking of which, after the latest patch APB: Reloaded is one heck of a tight experience, with a lot of fixes to missions, matchmaking and more hack prevention. It's really too bad we don't have more games like it.
You can learn more about APB: Reloaded which is currently free-to-play right now over at GamersFirst's Official Website, or you can look for the game to land on retailer shelves this December in North America, and in February across Europe in 2012.
Your Daily Blend of Entertainment News
Staff Writer at CinemaBlend.