APB: Reloaded Updated With 12 Days Of Christmas Event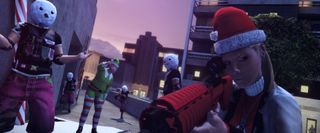 Gain access to free goodies when you rack up points via the G1 Currency Counter as well as participate in various holiday related events in the free-to-play, open-world, customization-heavy shooter, APB: Reloaded. The new Gift-Mas event is all about playing to unlock goodies.
There's a few new additions to the game, on top of what already launched recently in New Breed Pt. 3. New weapon skins, new snowball ammo for the launchers and new themes have been added for players to take advantage of during the brief but highly exploitative holiday season.
As stated in the press release...
APB: Reloaded also recently celebrated it's one-year anniversary since heading into open-beta and being officially launched the world around (including a short run at retail like a phoenix reborn). During the anniversary G1 gave away some free cash shop goodies, including a stogie and a celebration emote for those who have yet to unlock or purchase either from the cash shop.
If you're digging all the holiday event-goodness and you'd like to get in on the action, it's simply a few clicks away my good friend. Head on over to the official APB website or open your Steam client and queue up APB: Reloaded to start terrorizing or protecting San Paro in the only open-world, modern-day free-to-play shooter on the market.
Staff Writer at CinemaBlend.
Your Daily Blend of Entertainment News
Thank you for signing up to CinemaBlend. You will receive a verification email shortly.
There was a problem. Please refresh the page and try again.